The Race to Alaska is still happening, with various teams making their way from Port Townsend, Wash., to Ketchikan. But, race organizers had a party and awards ceremony at the Alaska Fish House on Saturday for the teams that blew through the finish line in the first week of the race.
Race to Alaska co-founder Jake Beattie handed $10,000 cash nailed to a chunk of wood over to Team MAD Dog, a three-member crew that sailed the 750-mile course in just under four days on a catamaran with no shelter.
Randy Miller is the captain of Team MAD Dog, and thanked organizers on behalf of his crew, Ian Andrewes and Colin Dunphy.
"This is the nuttiest thing I've ever done and it's awesome. This is the greatest race I've ever even been close to and it feels great to stand here with 10-large nailed to a piece of firewood."
Second prize went to Team Skiff Foundation Jungle Kitty, an eight-member crew that sailed to Ketchikan in a 44-foot mono-hull with tandem bicycles on the back to provide peddle power in case the wind died down.
The second-place prize is a set of steak knives.
"And in the tradition of professionalism that is the Race to Alaska: The steak knives are stuck in traffic in Seattle and have missed their flight to Ketchikan."
Beattie did go to a local thrift store, and bought a few placebo prizes for Team Jungle Kitty, to tide them over until the knives arrived.
"So you have some corn on the cob holders – there's six of those. I have a curling iron and some ski goggles."
Jungle Kitty Captain Benjamin Glass said he and his crew had a great time racing to Alaska.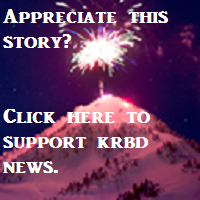 "Thanks for the Race to Alaska experience. Hopefully we'll be back again. We loved every minute of it. I hope that everybody else that's still coming has a successful trip and enjoys their trip as much as we did."
Before the awards ceremony, Team MAD Dog and eighth-place Team Turn Point Design sat together, talking about their race experience.
MAD Dog Captain Miller explained why he wanted to do the race.
"I had a friend in the race last year and I thought he was nuts. I thought he was going to die. He didn't die. He had a hell of a story and I really wanted to be a part of it this year."
The MAD Dog strategy involved non-stop sailing. They didn't sleep much, even though they were supposed to take sleep breaks, because there wasn't anywhere to sleep except a bivy sack on the exposed boat deck.
"My fear was I was going to get thrown into the water and I'd somehow have to cut myself out of the bivy sack while upside down in the water. I slept with a knife in my hand."
Team Turn Point Design crew members got a little more rest than MAD Dog, but Captain Brandon Davis, the boat's designer and owner, said he was too busy worrying about the boat.
"I was constantly listening for little things to break. I got barely any sleep at all."
So little that he ended up with an interesting hallucination.
"Yeah, I thought there was a fourth person on the boat with us. It was funny. Yeah, the last day there. I wasn't talking to him or anything."
The real three-member crew of Team Turn Point included Davis, Lucas Hurt and Piper Dunlap. The imaginary fourth crew member has been named Felix.
The boat Davis designed and built combined wind and peddle power — kind of like Team Jungle Kitty, but on a much smaller scale. Turn Point's craft is a 24-foot catamaran, and was the first small boat to finish the race.
The mariners all agreed that the incentive to race had nothing to do with the prize money, or even winning. Here's Miller again.
"We were talking about that earlier – this is like the worst possible monetary investment that you could ever make. But we're making memories here, and hopefully history, too."
Dunlap, from Team Turn Point, gave a shout out to the crews still making their way up the coast to Ketchikan.
"Even those that don't finish, in a way; just coming out and stepping up to the plate and doing it. They're all winners."
Since Saturday's reception, Race to Alaska Team Salish Express, with local resident Mack Dahl on board, has crossed the finish line. Team Ketchikan, with an all-local crew, is expected to arrive home sometime Wednesday. We'll have another update with the local participants later this week.