Ketchikan residents have been watching the Race to Alaska with great interest again this year, especially the teams with local sailors on board. Team Salish Express, with local Mackenzie Dahl, arrived earlier this week; and Team Ketchikan crossed the finish line at 6:49 Thursday morning.
Team Ketchikan captain Charlie Starr rang the finish-line bell at Thomas Basin Boat Harbor, marking the end of their nearly two-week adventure.
The first leg of the 750-mile Race to Alaska started in Port Townsend, Wash., on June 23rd. Teams that made it the approximately 40 miles to Victoria, British Columbia, then restarted on June 26th for the long haul to Ketchikan.
Starr and crew Mike Firari and Tom Logan are the 14th team to arrive in Ketchikan. They sailed home in "Kermit," a little, green Santa Cruz 27.
Well, they sailed as much as they could, that is. There was not much wind for Team Ketchikan, and they even had to row across the finish line, with the strains of The Ride of the Valkyries playing from the boat deck.
The crew members tied up to the dock and were immediately handed beers. They looked tired and relieved to be home. Logan said he's happy he did it, but this is probably his last Race to Alaska. The biggest challenge, he said, was the lack of wind.
"It's like groundhog day every day. You think you see the same island over and over again. It just doesn't go away. We never planned for this little bit of wind. We planned for a lot more wind like last year's race. We were going backwards several times. All we wanted was off the boat after a while. This boat is really fast with wind. Without wind, it creeps."
Logan said the best part of the trip was the first leg to Victoria, when Team Ketchikan beat catamarans and trimarans.
"But we did get passed by a rowboat, so that was kind of embarrassing."
Captain Charlie Starr said the most difficult part for him was the near-constant sitting.
"You can't really stand up in the boat much. You're sitting all the time."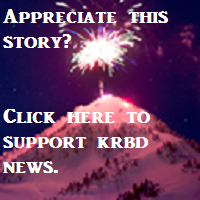 Like Logan, Starr wasn't sure about another Race to Alaska. He's not had personal experience giving birth…
"But I understand that when a woman has a child, if they remembered what it was like, they wouldn't do it again. But if you wait a couple of months, you get that amnesia setting in. Ask me in a couple months and we'll see. Right now, I don't think so."
Starr said some course decisions early on ended up adding days to Team Ketchikan's journey.
"If we'd gone a different way so we didn't get stuck in the doldrums, I think we could have been here with Salish Express."
Salish Express was in several days earlier. Ketchikan resident and veteran sailor Mack Dahl was one of the crew members, and said in an interview at KRBD that while the boat he was in is comparable to Team Ketchikan's, the wind was in his team's favor almost the whole way.
"Incredible amounts of wind: 35 knots on the stern, big, heavy seas – huge seas. Huge seas. And the boat just handled it marvelously. We piloted it well, reaching speeds upwards of 15-16 knots."
Dahl said a challenging segment for Team Salish was just past Seymore Narrows – in what's referred to as the "washing machine."
"The description was: It was like riding a bear. In a rodeo. In a typhoon. In a dark closet."
Dahl said it was a two-hour fight, leaping over churning ocean water and whirlpools, but they made it through with no injuries to the crew or the boat. He said the experience has been a big confidence booster.
"I got through it and there wasn't any point where we were scared about losing the boat or dying. There wasn't a point where I was miserable, I was too cold. I felt good the entire time. Overall, this was a really excellent experience and it's something I'm going to do as many times as I can."
Back on the dock at Thomas Basin, Team Ketchikan's Firari said he, too, would be willing to Race to Alaska again.
"Now that you know the areas, you ask yourself what would you do differently, so you could make changes and do better at things you did wrong."
A good attitude, no matter what challenge you decide to take on.
Several teams have dropped out of the Race to Alaska, but more determined mariners are continuing the long journey up the coast to Ketchikan.
You can track the teams still in the race through this link: http://tracker.r2ak.com/