Ketchikan's original musical melodrama "The Fish Pirate's Daughter" turns 50 this year, and there was a big celebration, reunion of the original cast members and a special performance.
About 50 years ago, theater supporter June Allen stood up during a Ketchikan City Council meeting to talk about the new community theater organization, First City Players. She told the Council it would be funded through ticket sales for an original play based on Ketchikan's history.
Then she asked Bob Kinerk to write the play.
Luckily, Kinerk was up to the challenge, and Jim Alguire was willing to write the music. And so, Ketchikan's original musical melodrama, "The Fish Pirate's Daughter," was born, and has been performed pretty much every year, with only minor changes, over the past five decades.
For the 50th anniversary of "The Fish Pirate's Daughter," Kinerk and Alguire reunited in Ketchikan with some of the remaining original cast members for a performance of the original script and score.
Gathering with the original cast for an interview, Kinerk recalls preparing for that first performance 50 years ago at The Totem Room bar, owned by Gordon Zerbetz.
"The bars in Ketchikan, of course they're very sedate and well-behaved people now.
But in the old days, that was a rough crowd in a bar.  It was a logging and fishing town, and those guys were in town for a good time. But we went and took over the bar and rehearsed like mad. We never got any back talk or anything. People either ignored us or kind of enjoyed watching what we were doing."
And that first performance was a sellout.
"We had packed that place. The word had gone out that this was a play about Ketchikan's very colorful history. A lot of people came and the reception was so warm and so nice, I really felt great."
"The Fish Pirate's Daughter" has a cannery owner, drunks, and a chorus of ladies representing the women who worked Ketchikan's infamous red light district on Creek Street.
And it has fish pirates – fishermen who raided the now-banned fish traps, and sold those stolen salmon back to the very canneries that owned the traps.
"The Fish Pirate's Daughter" is also very silly. It has a Dudley Do-right hero, a flighty, whiny heroine; a dastardly villain and a madam with a heart of gold.
That combination of silly and Ketchikan may be the magic recipe for its longevity. The changes over the years have only added layers to its appeal.
Here's Alguire: "A new cast will come in and think up something else – a different way to phrase a couple of lines. A different shtick to put in to make it a little bit different and everyone breaks up and is happy and we go on from there. It always seems to be evolving."
Going to The Fish Pirate's Daughter, or acting in it, is an annual tradition for many local residents. And that means, if an actor forgets or stumbles with a line, the audience will be sure to help them out.
Audience participation is encouraged. They catcall the madam, say awwww for the heroine, boo the villain, and cheer for the hero.
The original cast members in the special performance were Jim Alguire and Bob Kinerk, Gail Alguire, Mary McShane, Maureen Karlson, Bill Pickering, and Pam Hjorteset.
They recalled performing on Alaska Marine Highway System ferries a couple of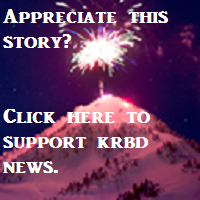 times, in front of the governor, at various events. In fact, McShane says: "With the original cast, most of us, if there was two people together and they said something about The Fish Pirate's Daughter, we'd put on a play for them."
Other longtime cast members who filled in for the anniversary performance were Steve Rydeen, Kathy Bolling, and Joe and Suzanne Linehan.
Like the original performance 50 years ago, the anniversary performance was packed. Audience members knew exactly when to boo or cheer, knew all the lines, and still thoroughly enjoyed this well-known and well-loved Ketchikan tradition.
In the interest of full disclosure, we should note that Leila Kheiry and KRBD staff members Maria Dudzak and Stuart Whyte have all been cast in this year's regular production of "The Fish Pirate's Daughter."