Verizon officially arrived in Ketchikan on Wednesday.
The city-owned Ketchikan Public Utilities Telecommunications Division kicked off its new wireless service with a short ceremony and ribbon-cutting with Mayor Lew Williams III.
The Verizon deal has been in the works for a while, and Mayor Williams said adding cellular phone service to the KPU lineup was important to the publicly owned company's continued survival.
"Since I've been involved since 1987, I hate to admit, we've come from rotary dial to internet to television and now into wireless. And we do that because we've got to keep competitive against the way things are changing," he said. "But we wanted to keep this company profitable for the community. It's your business. It's your company, and we wanted to make it viable."
KPU is the local provider for Verizon, which has not had a Ketchikan distributor until now. However, people who purchased Verizon plans elsewhere have had service in Ketchikan, by roaming on KPU's system.
KPU receives payment from Verizon for that roaming use, and those payments will continue – and increase – as more customers sign up for Verizon plans.
Ketchikan resident Ester Rhodes was at the KPU-Verizon grand opening celebration, along with about 50 others. She's already a Verizon customer, though. Rhodes bought her phone and wireless plan in Seattle, but needed a new phone.
"My phone had an unfortunate fight (with) a recliner chair," she said. "The chair won. We're all guilty: You're sitting in the chair, you put it on the arm, my dogs knocked it down and it fell down along the side and I didn't realize it. So, it got in a fight with a recliner chair and lost."
Rhodes said she's happy with the Verizon service, which provides coverage in areas that are known to be spotty or dead.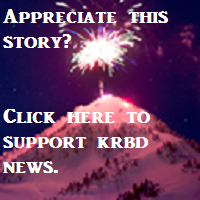 "On the end of South Point Higgins. In Herring Cove: I have two bars on Wood Road in Herring Cove. Up on Roosevelt Drive, I have coverage; Settler's Cove I have coverage," she said.
KPU Sales and Marketing Manager Kim Simpson said the main question she's been hearing from people is about Verizon's coverage on the island. She said expanding cell service coverage has been a focus for KPU.
"Because we're local, we designed the network, we live here, so it has to work for us," she said. "KPU designed the network – our engineers did. And we're also looking at filling in any spots in the network. So, if we find areas that are maybe a little spotty, we're going to fill those with micro-sites. We want it to be absolutely perfect coverage."
The original plan for KPU wireless was to offer KPU-branded phones, but officials later decided it was more practical to be a local source of the Verizon brand, which is nationally known and already has complex international roaming agreements in place.
With its entry into the wireless market, KPU now competes with all of the services provided by its primary competitor, Alaska-based GCI. Both offer landline, cable, internet and, now, wireless.
We should note that Kim Simpson is a KRBD board member.