Seabright Seafoods is a true small business. It's a direct-sales operation run by owners Dianna Garfield Robinson and Brent Robinson. They recently were chosen as finalists for Path to Prosperity, a Southeast Alaska small-business competition.
"This is our funny little fishing boat: The mighty Fishing Vessel Seabright," Dianna Robinson said, pointing to the 22-foot seabird.
When not out at sea, with Brent Robinson hand-trolling from the deck, the "mighty Seabright" is docked at Refuge Cove Marina.
The boat is the core of the business. Dianna Robinson said they catch fish, and then sell them fresh off the deck.
"I'll put it on Facebook when we come in, and people can come down and just buy fish right off the boat," she said. "They're whole, gutted, gilled. We (just) can't do any processing."
Recently, though, Seabright has been carefully expanding its market into the Lower 48 – sending some of its catch to businesses that want to sell traceable fish.
"There's a non-profit called Future of Fish, which has identified traceability as one of the two key ways to really fight overfishing and poor fishing and human labor practices on a global scale," she said. "We are trying to tap into a tiny, tiny, tiny little piece of that idea by marketing really supply-chain transparent fish to businesses that share that value."
Robinson said she works with traceable-seafood distributors in California and New York to find those customers. She's hoping that the Path to Prosperity program can help expand their market a little more.
As a Path to Prosperity finalist, Robinson will get some advice and mentoring through a business boot camp with other finalists in Juneau this fall.
"My two biggest hopeful takeaways from that are: networking with other Southeast entrepreneurs – learning what they're doing, what's working, what isn't working, in the seafood businesses, but in small business in general. And then the other real push that I need to do is work on marketing to expand our network of sales in the Lower 48, or up here," she said.
In February, Path to Prosperity winners will be announced, and those two small businesses will receive $40,000 each.
Robinson said winning the competition would be significant for Seabright.
"We've boot-strapped our business. It's all self-funded," she said. "There's a little bit of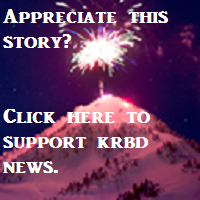 debt, then maybe looking at a boat upgrade, then maybe looking at some real scientific market research."
Robinson said she and her husband don't want to become a large business – maybe one or two employees at some point, but no bigger than that. However, she would like to connect other commercial fishermen to the traceable-fish market.
"I really don't see it as a space of competition. I see it as a space where the more people doing this kind of work, the better it is for all of us," she said. "Because the more people are going to be hearing fishers talk about what they do, understanding the idea of traceable, local seafood, asking about the sourcing of their seafood when they're out at dinner or at the grocery store."
As you may have guessed, sustainable fishing is important to Robinson, who grew up on an oyster farm on the East Coast.
"I love the water, I love the oceans, I love seafood," she said. "Anything I can do to be a part of making all of that continue for generations to come, I think is a win."
Robinson said it was mind-blowing to be chosen as a Path to Prosperity finalist, because Seabright is such a tiny business. But, she said, their vision is big and with a little help from the program, she hopes to turn that vision into reality.
The annual Path to Prosperity competition is a partnership between the Haa Aani Community Development Fund and The Nature Conservancy.