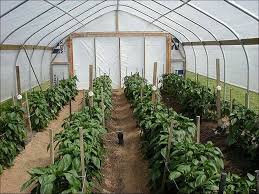 Southeast gardeners can apply for the USDA Natural Resources Conservation Service's high- tunnel cost-share program.
High tunnels or hoop houses are structures used to extend the growing season. They are typically at least six feet tall in the center and differ from greenhouses in that they are passively heated by the sun.
Samia Savell is with NRCS's Juneau field office. She says programs funded through her department must support conservation projects, and high tunnels have conservation benefits.
"They can help you make watering more efficient. They can reduce the need for nutrient inputs, especially here in Southeast where we have, typically high precipitation. You can really tend to leach the nutrients out of your soil. So, having a covered or controlled environment can make that a lot more efficient and beneficial for your crops as well. And it can reduce the need for pesticide inputs, and control some kinds of pests."
She says another benefit is the encouragement of local food production. Savell says anyone in Southeast who is currently growing crops, whether personally or commercially, can apply. Applicants must fill out forms, and both the land owner and land must meet certain eligibility requirements. She adds that because this is a federally-funded program, crops must be legal under federal law.
"There are a lot of new changes. I imagine our jobs will change significantly if some things are legalized on the federal level. But for now we're sticking with food or fiber or flowers."
Will Murray is also with NRCS. He says after an application is approved and a contract signed, the client must purchase an approved high-tunnel kit.
"The customers will order the kits, build the structure and, as they near completion, notify us. We will come out and certify that the practice is built according to specifications and process the payment, usually within a couple of weeks."
The deadline to file for the high-tunnel cost-share program is September 1st, but Savell says people interested in applying should contact the Juneau field office by July 31st. She says people need to verity their eligibility prior to submitting the application, and that takes time.
While the deadline for the program is fast approaching, Savell says NRCS funds other conservation projects throughout the year.
"Also we help people with things like nutrient management, irrigation water management and a variety of different practices that can be beneficial not only for growing food or flowers, but also just for conserving natural resources."
Those interested in learning more about the services offered by NRCS can contact the Juneau field office at 907-586-7220.
http://www.nrcs.usda.gov/wps/portal/nrcs/main/ak/programs/financial/eqip/
http://www.nrcs.usda.gov/wps/portal/nrcs/main/ak/newsroom/factsheets/