Ketchikan School Board President Michelle O'Brien is resigning from the Board, effective Oct. 12.
O'Brien has served as a Ketchikan School Board member for seven years, and has been Board president for the past two. She said her life got more busy than usual recently, and she doesn't feel she can give as much time as needed to the School Board.
"I've always been a firm believer that if you're going to do something, you need to do it 100-percent," she said. "My family situation has changed significantly in the past year, and I find myself in the position where I really can't guarantee in the next year, that I can give 100 percent to our community through service on the School Board."
O'Brien's term officially ends in fall of 2017. Her early departure will come after this year's Oct. 4 municipal election, so remaining School Board members will appoint someone to finish out her term.
O'Brien said the current board and staff work well together, and she's enjoyed her time as a School Board member.
"I feel very proud of what we've achieved. Of course, it's not me; it's the group of people that have served. It's the dedicated staff; it's the community that dedicated their time to students and our schools," she said. "It just seems like the right time to step down and let someone else be able to have another opportunity."
O'Brien said whoever fills her spot will be coming in to a positive situation, even though local schools have faced some recent challenges.
"We've got good things happening in our schools despite the budget cuts. Our administration has done some very careful planning in setting up our future, because they are visionary enough to realize what was coming down the pipe," she said.
O'Brien said she's proud of what the board and administration have accomplished by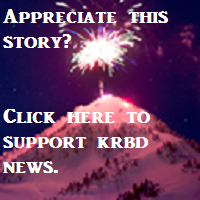 working together, including the expansion of options within the Ketchikan School District. As an example, she mentioned the different plans students can choose for high school.
"Kayhi would be a traditional option, then you have Revilla with a more customized educational offering, where there's one subject studied at a time and it's a rolling schedule and it's very, very individualized," she said. "And then we also have Fast Track."
Fast Track allows students to supplement their education, or catch up on subjects if they've fallen behind for any reason.
O'Brien said there is one issue that's not as resolved as she'd like.
"I wouldn't say that this is something we didn't accomplish, but I'm still not convinced that we're 110-percent of the way there yet, and that would be solidifying a positive working relationship with our Borough Assembly," she said.
The Ketchikan Gateway Borough Assembly holds the purse strings for the school district, and has review power over the district budget. There have been disagreements between the Board and Assembly over the years.
"We have made great strides in the last two years, but as you and I know, there are elections every year," she said. And potentially different elected officials bring different personalities, which can change the dynamics.
Two current School Board members – David Timmerman and Trevor Shaw – end their terms this election. They could file for re-election after the filing period opens Aug. 1.
Two Borough Assembly members – Alan Bailey and Bill Rotecki – end their terms this year. Neither can run for re-election because of term limits.