District 36 Representative Dan Ortiz held a constituents' meeting in Ketchikan Wednesday night.  He spoke about the state's fiscal challenge and what happened during the last legislative session.
Ortiz says he knew it would be tough entering the regular session with a $3.5 billion budget deficit. He says though little progress was made, some positive things were accomplished for District 36. Ortiz says one positive was a failed attempt to withhold cruise ship passenger funds from Southeast communities.
"That's pretty significant to the budgets of our city and the budgets of our borough, in terms of about $4 million total and $2 million each for the city and the borough. I was quite concerned about it and obviously people from the borough were quite concerned about that particular issue. We were able to get that reversed and able to secure those monies."
He says he also supported a bill to help free up regulations on state timber lands.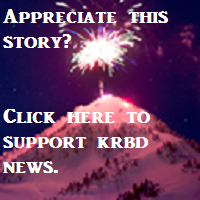 "Senate Bill 32 was a success because it made timber more accessible and it made the timber industry more viable here in Southeast Alaska. The economy overall wins when that happens."
Ortiz says while increased access to state lands is beneficial, the larger issue for timber and mining industries is access to federal lands.
His top priorities are senior programs, public safety and education, and he is pleased some funding was restored for those services.
Governor Bill Walker called a special legislative session earlier this month to address the state budget crisis, specifically to identify new sources of revenue. The current budget relies on using savings alone from the Constitutional Budget Reserve. With decline in oil revenue and production, the capital and operating budget went from $8 billion to less than $4 billion after the governor's vetoes.
Walker has proposed restructuring the Permanent Fund and adding a combination of new taxes. Ortiz says legislators can't tap into the fund's main savings without voter approval, but they can use the earnings from the investments.  He says he hears constituents say, "Don't touch the Permanent Fund," but they also don't want to see a reduction in services.
"Right now we could pay the dividend the way it's always been paid for two more years, but then after that we're going to be out of savings and the only source of money that we're going to have to fund the government is going to be the Permanent Fund earnings, which is what pays your dividend."
Ortiz says he supports a combination of measures.
"To me, what would be more fair would be a combination of some income tax and a cap on the dividend so that we continue to get the dividend, but not a complete reduction of the dividend. I think that would be a pretty regressive move and have the biggest impact on the less-fortunate people."
He says if the Legislature doesn't come up with a solution, the state eventually will run out of money. Ortiz believes lawmakers can reach a consensus. He says the issue isn't that the two sides can't come to a compromise, it's that some are unwilling.
"The issue is…some people are just not willing to restructure the Permanent Fund. I think they believe that is not in anybody's best interest and particularly their best interest in terms of if they want to continue to be in the legislature."
Ortiz says legislators should be held accountable for their actions.
"Our job is to make sure we're on a fiscally-sustainable path into the future. That's our job. I'm very much willing to take the actions to make that happen. There are some of us, but we're in the minority so far."
He says the long-term solution is diversifying so the state doesn't rely solely on the oil industry for revenue. Ortiz says timber, fishing and mining offer economic opportunities, but expanding those industries will take time.
"We have great long-term potential, but what we need to do is figure out how to get to the long-term here in the short and mid-term. Figure out how to bridge us to that potential area."
Ortiz says there are currently no plans for another special session. He says if one is called, it likely will be after the November elections.