Ketchikan is the third busiest port for Alaska Marine Highway System passengers, behind Juneau and Haines – but only slightly behind Haines.
But in terms of economic impact from the ferry system, Ketchikan is number one. Heather Haugland of the McDowell Group told a Ketchikan Chamber of Commerce lunch audience Wednesday that the ferry system provides more than 300 direct jobs in Ketchikan.
Part of that is because the Marine Highway headquarters are here, so Ketchikan is home to administrative jobs as well as on-board ferry positions.
Throughout the state, "there's over 1,000 employees of the Marine Highway system, and 95 percent are Alaska residents, so that's a big number," she said. "And total payroll is over $100 million."
Haugland's presentation was based primarily on data from 2014. In that year, the ferry system spent about $46 million on operational expenses – such as fuel and supplies — including about $4 million in Ketchikan.
Haugland said that's separate from capital spending – such as ferry repairs, new vessel designs, and terminal upgrades.
"Ketchikan is the big winner on this one: 81 percent of the statewide capital spending occurred in Ketchikan, so $31 million," she said. "There were 37 total capital projects. The biggest projects were the new engine for the Columbia, the Alaska Class ferry construction and the Kennicott refurbishment and upgrades."
That work came to Ketchikan because of the shipyard, owned by the Alaska Industrial Development and Export Authority, and operated by Vigor Industrial.
Haugland said the ferry system in 2014 spent about $185 million in the State of Alaska. But, she said, the overall economic impact — the effect the ferry system has on other state industries – is even bigger.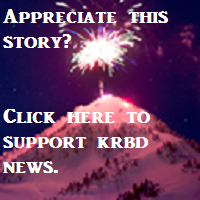 "$104 million in direct and indirect wages, 1,700 jobs and total spending impacts of $273 million – about two-thirds in direct and one-third indirect," she said. "It's important to point out that the general fund allocation was $117 million, so when you compare that to $273 million, it's more than twice what is put into the Marine Highway System by the State of Alaska."
Haugland said ferries play a big role in the visitor industry, shipping freight throughout the state and Outside — including seafood — and maintaining connections between coastal communities.
Following her presentation, audience member Stephen Bradford said that the study has important information, but Haugland was "preaching to the choir" in Ketchikan.
"How do you get the heathens to believe?" he asked, prompting laughter from the audience and from Haugland.
"That's not my job," she replied. "That's your job!"
She said the McDowell Group just provides the data – it's up to others to use it.
Haugland also presented information on a recently completed study that focused on local economic impacts from the Vigor Alaska shipyard. She said the shipyard provides about $10 million in direct wages for about 180 employees, and those wages are higher than average for the community.
She said the overall economic impact of the shipyard – direct and indirect – is about 270 jobs and $14 million in wages.
The McDowell Group is a research and consulting firm with offices in Anchorage, Juneau and Bellingham, Wash. Haugland said they are currently working on a new business and marketing plan for the Alaska Marine Highway System, as well as new Ketchikan cruise industry surveys and a marketing plan for the Ketchikan Visitors Bureau.