The Ketchikan Gateway Borough's animal shelter implemented a new fee structure on July 1st. Changes include cost of adoption and licensing, and fines.
The recommended changes were developed by staff and members of the Borough Animal Protection Citizen Advisory Committee, and approved by the Borough Assembly. Prior to July 1st, adopting a dog under four months of age cost $171, and adopting an older dog was $150. Borough Animal Protection Director Eddie Blackwood explains the new fees.
"If an animal is under four months, the adoption fee is now $200. Four months and older, for a dog, the fee is $125. A senior animal, that would be, eight or nine years plus. That amount would be determined by the manager or the director of the shelter."
Blackwood says fees were changed to make it less expensive to adopt older animals.
The cost of adopting a cat was $134, but now is much less, especially if you adopt more than one.
"With cats under four months of age, it's $120 each or if you want to adopt two, maybe there is a pair of kittens or a pair of cats that came in together, it would be $180 for two. The adult cats are $50 each and if you choose to take two adult cats home, it's $75. So there's a bit of a break if you get more than one cat."
Adoption fees for both dogs and cats include spaying and neutering, and microchipping.
The dog license fees also have changed. Blackwood says the committee looked at fee structures in shelters throughout Alaska and the Pacific Northwest, and decided Anchorage's model fit best. He says that allows for purchase of one, two or three-year licenses.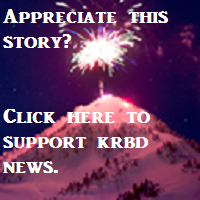 "You can coordinate it with your rabies vaccine. And if you just got a rabies vaccine and it's good for three years, then you can go with the three-year license and you're good for both."
For altered dogs, a one-year license is $15, and there are cost breaks for two and three-year licenses. For unaltered dogs, the fee is $50 a year, and the license must be renewed annually. There are no cost breaks for unaltered dogs. Senior citizens get one free license a year.
Also revised are fines for violations. Examples of violations include failure to license your dog, inhumane care, and failure to spay or neuter a dangerous animal.
"When we looked at the fines, we wanted the severity of the violation to mirror the fine and that was the basis for the alterations that we made. There is one thing that we added. Under the animal establishment permit, we've created a section for 'casual breeder' where the animal establishment permit is only $25 a year instead of $100."
Blackwood says an example of a casual breeder would be someone whose pet has one litter a year, or if an unspayed animal got out and impregnated by mistake.
The shelter is open daily from 10 am to 5 pm.
___________________________________________________________
NEW ADOPTION FEES:
DOGS
UNDER 4 MONTHS OLD $200
4 MONTHS AND OLDER $125
CATS
UNDER 4 MONTHS OLD $120 EACH OR $180 FOR 2
ADULT $50 EACH OR $75 FOR 2
SENIORS & SPECIAL NEEDS TBD BY MANAGER OR DESIGNEE
BIRDS $25
OTHER ANIMALS $25
SHELTER FEE SCHEDULE – TAKES EFFECT ON JULY 1, 2016
LICENSES
UNALTERED DOG $50
SPAYED/NEUTERED $15 (1 YEAR)
$27 (2 YEARS)
$39 (3 YEARS)
POTENTIALLY DANGEROUS LICENSE $100
ADA SERVICE DOG, SENIOR OWNER FREE
KPD, AST, SEARCH & RESCUE DOG FREE
DUPLICATE LICENSE $5
CAT LICENSE, LIFETIME $25
30 DAY TRANSFER OF LICENSE $5
ADOPTION FEES
DOG
UNDER 4 MONTHS OLD $200
4 MONTHS AND OLDER $125
SENIORS & SPECIAL NEEDS TBD BY MANAGER OR DESIGNEE
CAT
UNDER 4 MONTHS OLD $120 EACH OR $180 FOR 2
ADULT $50 EACH OR $75 FOR 2
SENIORS & SPECIAL NEEDS TBD BY MANAGER OR DESIGNEE
BIRDS $25
OTHER ANIMALS $25
TRANSFER TO ANOTHER MUNICIPAL SHELTER FREE
ANIMAL TRANSPORT TO AIRPORT $50
SUBSISTENCE
DOGS: PER DAY, EACH $20
CATS: PER DAY, EACH $20
OTHER ANIMALS; PER DAY, EACH $20
PRIVATE BOARDING FEES
DAILY FEE PER ANIMAL $40
MISCELLANEOUS FEES & CHARGES
RABIES VACCINATION VOUCHER/TRANSPORT $80
RABIES VACCINATION VOUCHER $30
HOME QUARANTINE (INSPECTION FEE) $10
QUARANTINE OF ANIMAL AT SHELTER $100
ANIMAL ESTABLISHMENT PERMITS
COMMERCIAL OPERATION $100
COMMERCIAL RENEWAL (2ND YEAR & AFTER) $50
CASUAL BREEDER (1 LITTER PER YEAR) $25
IMPOUND FEES FOR DOGS WEARING CURRENT KGB LICENSE
FIRST OFFENSE FREE IF ALTERED; $50 UNALTERED
SECOND OFFENSE $50 ALTERED; $100 UNALTERED
THIRD & SUBSEQUENT OFFENSES $50 ALTERED; $125 UNALTERED
DAILY SUBSISTENCE ON IMPOUNDED ANIMAL $20
IMPOUND FEES FOR DOGS NOT WEARING A VALID KGB DOG LICENSE
FIRST OFFENSE $50 ALTERED; $100 UNALTERED
SECOND OFFENSE $75 ALTERED; $125 UNALTERED
THIRD & SUBSEQUENT OFFENSES $100 ALTERED;
$150 UNALTERED
DAILY SUBSISTENCE ON IMPOUNDED ANIMAL $20
IMPOUND FEES FOR CATS
FIRST OFFENSE FREE IF ALTERED; $50 UNALTERED
SECOND OFFENSE $50 ALTERED, $100 UNALTERED
THIRD & SUBSEQUENT OFFENSES $75 ALTERED, $125 UNALTERED
OTHER ANIMALS (RABBIT, FERRET, BIRDS, ETC.) $40
TITLE 6 FINE SCHEDULE – TAKES EFFECT ON JULY 1, 2016
6.05.050 Interference with duties $300.00
6.10.010 Failure to obtain dog license $50.00
6.10.040 Failure to display license $50.00
6.10.050 Failure to obtain animal establishment permit $100.00
6.20.010 Failure to immunize $100.00
6.20.030 Fraudulent use of immunization certificate $300.00
6.20.040 Failure to report bite $100.00
6.20.050(a)(1) Failure to make animal available for inspection and quarantine $300.00
6.20.050(b) Failure to quarantine $300.00
6.25.030 Failure to confine potentially dangerous animal $300.00
6.25.040 Improper off-premises restraint of potentially dangerous animal $300.00
6.25.060 Failure to display potentially dangerous dog signs $100.00
6.25.080 Failure to spay or neuter potentially dangerous animal $300.00
6.30.010 Failure to provide humane care $300.00
6.35.010(a) Dog at large $100.00
6.35.010(b) Dog not under restraint $100.00
6.35.030 Failure to confine animal in heat $300.00
6.35.050 Improper restraint $100.00
6.35.060 Dog in prohibited area First offense $100.00, second and subsequent offenses $200.00
6.40.020(a) Molests any person, vehicle or animal not the property of its owner or responsible person Mandatory court appearance
6.40.020(b) Damage to public or private property not owned by the owner or responsible person Mandatory court appearance
6.40.020(c) Creates excessive noise (Permit animal to create excessive noise within 30 days of warning) First offense: warning; second offense within 30 days of warning: $100.00
6.40.030 Animal defecation $100.00