Lt. Gov. Byron Mallott visited the Unuk River south of Ketchikan on Friday, part of his ongoing work with British Columbia officials to come up with a way to better protect Alaska's waters from upriver Canadian mines.
Following his trip to the Unuk, and to the small boundary community of Hyder, Mallott came by KRBD to talk about how transboundary mine negotiations are progressing.
A whole group of state and federal officials flew over the Unuk. The lieutenant governor was accompanied by Alaska Department of Fish and Game Commissioner Sam Cotten, as well as U.S. Forest Service Regional Forester Beth Pendleton and Tongass Forest Supervisor Earl Stewart.
Mallott said it was important for him to see the Unuk, one of the transboundary rivers that flows from British Columbia into Alaska. Those rivers are a subject of concern because of Canadian mining activity.
"And the Unuk River is the one transboundary river that I had not been on and Commissioner Cotten had not visited before," he said. "We think it's important to see those places, to have a sense of the reality."
Another reason to visit the Unuk was to strengthen the state's relationship with the U.S. Forest Service, and – Cotten said — to underscore Alaska's continued interest in the health of its rivers and ocean.
"Lt. Gov. Mallott has taken the lead on this initiative to address the many concerns we hear about what would happen if something went wrong with a Canadian mine on a river that dumps into Alaska," he said. "One of the primary fears we hear from folks is what would that mean to fishing and fish. So, we're very interested in that."
The Kerr-Sulpherets-Mitchell, or KSM, gold mine on the Unuk has not started production yet, but there has been exploratory work.
There was a change in the national government of Canada since Alaska started transboundary talks with British Columbia, but Mallott said that hasn't really affected Alaska's negotiations with the provincial government. At least not yet.
Mallott said he talked with Canada's national environment and climate change minister, and she told him that, "The national government of Canada was going to be looking at their national environmental processes, with an eye toward strengthening them."
That could affect how proposed mines are handled in the future. Mallott said officials in Prime Minister Justin Trudeau's administration also have indicated they want to work more cooperatively with Canada's First Nations.
That could go either way with mines, because some tribes support mining ventures for the economic benefits; others oppose them out of concern for the environmental impacts.
As the national Canadian government figures that out, though, Alaska and British Columbia are continuing work on their Statement of Cooperation. Mallott said they're exchanging drafts, and are close to finalizing and signing the document.
It doesn't give Alaska any veto power over mines – that would require a treaty between the two federal governments. But, he said, it creates a framework to meet regularly and talk about concerns.
"It's us engaging with them in a structured way as they move ahead with their various mine permitting processes," he said. "This agreement will spell out how that working relationship takes place, it will identify areas of particular interest on our part."
And, he said, it will emphasize the need for transparency.
Mallott said he enjoyed his visit to Hyder, a small community on the mainland, just a short drive from the Canadian border. It's also the home of the Forest Service-run Fish Creek bear viewing facility.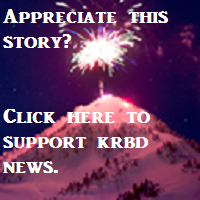 "I had never been to Hyder. And, born and raised in Alaska – it's a Southeastern community; I'm Southeastern. So, to be able to check that box – although it was more than checking a box. It's a beautiful little place, an incredibly beautiful area," he said.
Mallott took some time to address Alaska's fiscal woes. He said it was disappointing that the Legislature did not come up with a way to create more revenue for the state, choosing instead to pay for government through savings. Mallot said that's why Gov. Bill Walker vetoed more than a billion dollars.
"He was forced to do what he did because there was no fiscal plan to even get us to the next session of the Legislature and the next budget without burning through more savings – several billions," he said.
Mallott responded to lawmakers who have said Alaska still has a "spending problem," even after significant cuts to the state budget over the past two years.
"I think they're wrong," he said. "I think they're tragically wrong, because the level of services that Alaska provides to its residents across the state have been significantly reduced."
Mallott pointed to cuts to education, public safety and infrastructure – all areas he said the state needs to maintain in order to attract new business to Alaska.
Cotten noted cuts to his own department, and said if his budget drops much more, they'll have to reduce, for example, aerial surveys for fisheries. That would force more conservative estimates in order to ensure healthy stocks.
"We're getting to where it's going to hurt the fishing businesses," he said. "And it's not just the fishermen, it's all the associated support industries and local economies. It's not something we're taking lightly; it's a very serious situation. The Legislature, yeah they have a tough job, but they have to step up and accept their responsibility."
Cotten, of Eagle River, is a former speaker of the State House.
The Legislature doesn't have any additional special session scheduled before the upcoming election. The next session starts Jan. 17.