Metlakatla, Alaska, was founded 129 years ago by a group of Tsimshian Natives who canoed up from the original Metlakatla in British Columbia to settle on Annette Island, a short boat ride south of Ketchikan.
Yesterday, we heard from a Metlakatla elder in British Columbia about the Canadian community's history. Now, we'll hear from some residents of Alaska's Metlakatla, who are dedicated to learning, teaching and celebrating their people's history.
You can't get into the history of Metlakatla without talking about William Duncan. He was a key figure in that Tsimshian community's founding and development over the years.
The Anglican lay-priest's house still stands in Metlakatla's historic waterfront, and is a mini-museum – a place to honor the town's founders and the man who inspired them.
"This is the oldest building in Metlakatla, built in 1891. It was built by our people for Father Duncan," said Naomi Leask, the curator at the museum.
Holding her adorable, sleepy infant as she shows me the cottage, Leask said the building wasn't only Duncan's house, it was a clinic for the brand-new community, a business office and a temporary school until a real school could be built.
The historic cottage now displays artifacts from Metlakatla's early days: A bentwood box, halibut hooks, carved spoons.
"Everything in these cases came over from British Columbia with us," Leaks said.
Leask is among Metlakatla's descendants of about 800 Tsimshian Natives who left the West Coast of Canada in 1887, and canoed north into Alaska to start a new life and community.
The group left Canada for two primary reasons: One: The Church of England decided it needed to take over the community of Metlakatla, British Columbia, that the First Nations people there had built under the leadership of Duncan. And two: The government of Canada had approved a new law with the aim of taking land from indigenous tribes, and "integrating" those tribes by stamping out traditional languages and culture.
Now, Duncan did prohibit some traditions — such as potlaches and shamans — but he encouraged the First Nations tribes to maintain their languages, and he made sure chiefs had positions of power. The community of Metlakatla, BC, was prosperous, and many of the residents didn't want to give it or Duncan up, but it was either that or fight the Canadian Army.
Hence the decision to leave it all behind and start new.
Metlakatla carver and historian David R. Boxley, explains why his ancestors opted to head north to Alaska: "Long before the border had been established with Canada and, back then the Russian Empire, and eventually the American government, our people – the Tsimshian people – were in this area. We have names for islands and things all throughout Southeast Alaska."
So, it wasn't foreign or unfamiliar, but it was another country – a territory of the United States – and a way to escape the Church of England and Canada's Indian Act.
Duncan went to Washington, D.C., to ask for a piece of land, and a scouting party canoed north to see what was available.
Boxley and his friends and fellow history buffs Gavin Hudson and Kandi McGilton, were driving me around Metlakatla while explaining its history. Boxley said it's rumored that the scouting party went as far north as Wrangell before picking Annette Island, just south of Ketchikan.
"The story goes that Chief Johnson in Ketchikan recommended this place," Boxley said.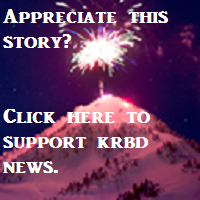 "There had been a Tlingit village here years before, but it had been abandoned for quite a while – maybe 50 years. When we got here, there were these beautiful sandy beaches for our canoes, a waterfall for water… it was perfect."
Duncan got permission from the U.S. government, and an advance group of about 50 settlers came to set up camp and start building temporary shelters. About a year later:
"Mr. Duncan and some government officials arrived on Aug. 7th and they had a church service down on the beach and raised the American flag and rang the church bell, that they brought along with them – there was no church," he said.
At least not yet. The original settlers lived on the beach for two years. They cleared trees by hand so they could build real houses and a new church. Hudson stressed the sheer physical challenge of clearing land back then.
"In those days, to get a stump out of the ground, all the men in the village had to tie a rope to the stump and every man got on the rope, and they pulled and heaved an pulled until they got the stump out," Hudson said. "Well, to clear enough for a community, we're talking about thousands of stumps."
In 1891, Annette Island officially became a Native reserve by act of Congress  – the only reserve in Alaska.
But Aug. 7, 1887 – the day they rang the bell on that beach — is the day Metlakatla honors those pioneers with its annual Founders Day celebration.
Judith Eaton is the Metlakatla Indian Community Council Secretary. She's been working hard on planning for this year's Founder's Day. She said the population of the town pretty much doubles every Aug. 7th; visitors from surrounding islands come to help celebrate, and family members who have moved away return for the event.
"As a matter of fact, I'm having family and the mayor is having family coming, friends and family coming for the Founders Day," she said. "It's a good time for all – everybody gets together and this is our 129th year as a community."
Eaton said she's grateful to the pioneers, their hard work and their foresight into what future generations might need.
"I'm just really fortunate that our forefounders found this place for us," she said. "It's self-sustaining, we have potable water, we have all the wonderful seafood around and a lot of – my daughter and I went berry picking yesterday, we've got so many different species of berries – we have wildlife on here. They did a good job."
Founders Day includes a parade, foot races, various contests, canoe races, booths and fireworks to end the day.
Last year and again this year, Founders Day also will include a seafood dinner sponsored by the Hyaak Foundation, a nonprofit that's dedicated to reviving the Tsimshian language.
That nonprofit was founded by Boxley, Hudson and McGilton, who are planning the dinner as a formal event with a special presentation about Metlakatla's pioneers and the importance of learning the language.
They prefer to focus on the Tsimshian pioneers, because those are the people who did all the hard work building Metlakatla, but, they agree, you can't dismiss Duncan's significant contributions to their community.
"Some folks either hate William Duncan or they love him," Boxley said. "I think if you really read enough about the history and get to know him through the books and things that are written about him, you kind of come to this even-keeled place where you can't love him and you can't hate him because: We have an island, thanks to him."
"Historically, he's a complicated figure," Hudson said. "He's a complicated man. I think he was brilliant and he must have been incredibly persuasive. And I think he had to hold himself to the highest standard of moral standards, and standards of integrity and honesty. And I think he really did everything from his heart. He believed he knew what was best for our people and he pursued it, and didn't let anything get in the way. Not even the Canadian government."
As Boxley points out, between Duncan's controversial leadership, the arduous canoe journey up the coast and the hard labor required to create a new home for their people, Metlakatla's history would make a great movie.
Founders Day in Metlakatla, Alaska, is Sunday, Aug. 7th. The celebration is open to the public, and Allen Marine is offering low-cost boat rides from Ketchikan to Metlakatla's downtown dock. We posted the schedule below.
You can read part 1 of this two-part series here.