Ketchikan City Council Member Julie Isom filed for re-election today. She is finishing up her first term on the Council.
Isom's term was a short one – just one year. She was elected last year to finish the term of Matt Olsen, who resigned his seat because he was moving south. Isom said the past year was a chance to get her feet wet and decide if she wanted to run for a full three-year term.
"And I'm enjoying the work on the Council; it's even been enlightening because I've changed my mind on a couple of issues based on hearing both sides," she said.
Isom said it's important to listen, and remain open to other opinions. The issue of retail marijuana within city limits was one issue where she changed her vote, deciding to support it after hearing from constituents.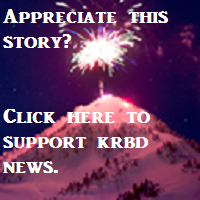 "When you take a stand and refuse to listen to the other side, then you have your own agenda getting onto the Council and I never went in with my own agenda. I was always open to both sides," she said. "I like to think I can stick to my guns, but it just happened. I never planned to change my mind but, boy, hearing that other side – I just did."
Isom says she enjoys working with the other Council members, even when they disagree, because they all work well together.
Isom is general manager for Ketchikan Title Agency. She previously worked as the Ketchikan Chamber of Commerce executive director.
There are two open seats on the Ketchikan City Council this year. The other seat is held by Judy Zenge, who also filed for re-election this week.
The local election is Oct. 4th.