A contract to renovate the city-owned Centennial Building was approved 6-1 Thursday by the Ketchikan City Council.
Council Member KJ Harris was the only no vote to the $1.25 million contract with Dawson Construction.
During public comment, Rodney Dial spoke against the city spending money on the building, which houses the city's Tongass Historical Museum. He says money is too tight to spend on the project, and the issue should go to voters in the form of a bond.
Later, City Manager Karl Amylon responded, saying that the project was significantly downgraded from original plans, and that it's the city's job to take care of its infrastructure.
"We just can't stop putting money back into infrastructure," he said. "Because if we do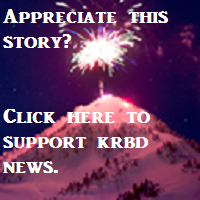 that, it's going to be just that much more difficult for the next Council in five, seven years if we stop doing everything right now when times are tight."
Most Council members agreed that the expense was reasonable. KJ Harris, though, agreed with Dial that money is too tight.
"Throughout the state, we are broke and getting broker," he said. "It's just the way things are, and I'm going to be a doom and gloom speaker because that's just the way it is."
Also Thursday, the Council talked about the Ketchikan Gateway Borough's announced plan to remove wooden benches along Dock Street in front of the Centennial Building. Some business owners had complained about activity on those benches.
The borough gave the city the option of taking responsibility for the benches, if the city didn't want them removed.
Council members agreed they don't want the benches removed, but they also don't want to take over ownership. Janalee Gage says what the community needs to do, instead, is work harder to solve the underlying problem of homelessness and substance abuse.
In response to a question, Police Chief Alan Bengaard told the Council that police action in response to complaints about homeless inebriates usually just results in a change of venue.
"Yes, we start getting calls in a particular area, we start saturating the area with uniforms to try and move the problem off," he said. "Sad to say, that's all we do. We move the problem from one area to another."
The Council agreed to further discuss the issue with the borough, as well as with organizations that help the homeless, and local substance abuse agencies.
At the end of the meeting, Amylon noted that the city's budget process for 2017 begins next week, and he anticipates it will be another difficult year, fiscally.
The next Council meeting is Aug. 18.