A Stedman Street building burned Wednesday afternoon, sparked by a van that caught on fire while parked next to the building.
Traffic had to be rerouted for several hours from the busy Ketchikan road – a primary route for most vehicles, including tour-related traffic.
As Ketchikan Fire Department crews checked the building for hot spots, Assistant Fire Chief Scott Brainard said the initial report that came in was of the van on fire.
"On arrival, it was fully involved, with flame impingement against the side of the building,"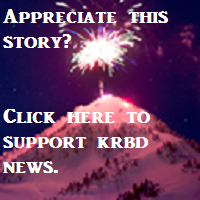 he said. "And the side of the building was igniting. At that time, the fire was getting into the attic space of the building."
City fire crews, along with crews from North and South Tongass Fire Departments responded, and Brainard said the fire was extinguished at about 2 p.m.
"There's no injuries to civilians or firefighters that have been reported," he said.
It's unknown how the van caught on fire. Brainard said the cause is under investigation.
The building's address is 525 Stedman Street. According to the Ketchikan Gateway Borough Assessment Department's online property search, it is owned by Villa Machini, Inc.