Ken Tonjes, chief administrative officer for PeaceHealth Ketchikan Medical Center, announced he'll be leaving his position at the end of the year in order to be closer to his children and grandchildren.
Tonjes has been with PeaceHealth almost 27 years. He says he started his career at St. Joseph's Hospital in Bellingham as an entry-level accountant, and worked his way up to the top. Fifteen years ago, Tonjes was named chief financial officer for Bellingham and Ketchikan, and commuted between the two.  In 2013, he was hired as CAO of PeaceHealth Ketchikan Medical Center, and moved to the First City.
Tonjes says one of the accomplishments he is proud of is the completion of Phase 1 of the Ketchikan Medical Center expansion. He says the facility has attracted new physicians to Ketchikan.
"Having a stable medical staff, with a stable facility, is really what's important to me and what's important to the community. Because we want to be here for the community when the community needs us."
Tonjes says another thing he is proud of is team building.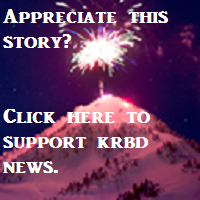 "We have a wonderful group of caregivers that care for one another and have each other's back. You need that in a small community that's challenged in health care. Health care is 24/7, 365."
Tonjes says he also is pleased to have been part of establishing the Ketchikan Medical Center Foundation. He says he appreciates the volunteer board that runs it, and the strong community support.
Tonjes says something he wishes he could have completed is securing funding for Phase 2 of the hospital renovation.
"With the challenges the state has with the budget, we still have not secured funding to finish the facility master plan.  We're kind of on hold on that. It's still a need, but also given the reality of the economic situation here in the state, we're just going to wait and see what happens and look at other alternatives."
Tonjes says he has always recommended to his coworkers that family comes first. He says he's been career-driven all his life, and now feels it's time to follow the advice he gives others. Tonjes says he was influence by something his grandson, Charlie, said.
"Our last Skype he said, 'Papa. When are you coming back?' Those kinds of things have a deep impact and I thought, 'This is a good time to heed my advice and maybe slow things down, and take my advice, and start spending more time with family.'"
Tonjes says he and his wife, Nancy, both love living in Ketchikan and making the decision to leave was bittersweet.
"It's been a wonderful adventure here in Ketchikan, I've loved it here, and even though I'm moving away in December, I'm still going to come back."
Tonjes says he announced his resignation now to give PeaceHealth time to find a replacement. The new CAO will be selected by Dale Zender, CEO of PeaceHealth's Pacific Northwest network. Tonjes says Zender will work with the Community Health Board and Community Executive Team in Ketchikan to vet candidates.