About a week after he was apprehended for the strangling death of his girlfriend, 27-year-old Albert Peter Macasaet was arraigned Tuesday in Ketchikan District Court.
Macasaet faces one charge of first-degree murder for the July 31st death of Judylee Guthrie, also 27. He was arrested Aug. 9th at his mother's house in Klawock on Prince of Wales Island following a 10-hour standoff with Alaska State Troopers, but was immediately hospitalized for an alleged drug overdose.
Macasaet was released from PeaceHealth Ketchikan Medical Center Monday afternoon.
During Tuesday's arraignment in front of District Court Judge Kevin Miller, District Attorney Stephen West cited the standoff, and Macasaet's prior history of domestic violence against Guthrie, when he asked for bail of $100,000.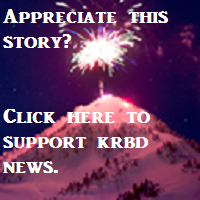 Judge Miller agreed that the state's bail request was reasonable for the charge Macasaet faces. The judge added that, if he's able to post bail, Macasaet would be prohibited from drinking alcohol, entering bars or liquor stores, or having contact with witnesses.
Macasaet's next scheduled hearing is 4 p.m. Aug. 25th in Ketchikan District Court.
Here is a report from last week about Macasaet's arrest. And here is the initial report about Guthrie's death.