A pilot who crashed his privately owned floatplane on the shore of Clover Lake on Prince of Wales Island shortly after takeoff was rescued Monday by a U.S. Coast Guard crew.
Coast Guard 17th District command center watchstanders report that they received an Electronic Locator Transmitter alert Monday evening for a Piper Tri-Pacer float plane. ELTs instantly alert responders when there's a crash, and provide GPS coordinates to assist in finding a downed aircraft.
According to the Coast Guard, watchstanders contacted Ketchikan Flight Service Station personnel, who reported that they last talked with the pilot, identified by Alaska State Troopers as Thomas McIntire of Ketchikan, at 5:15 p.m., but lost contact shortly after. A Sitka helicopter crew then was launched to search.
The helicopter crew located the wreckage, hoisted the man and transported him to the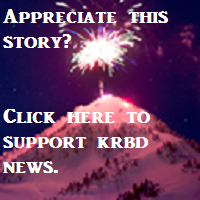 Ketchikan airport, where he was met by emergency medical services personnel. Troopers report that McIntire declined medical assistance.
The response was officially closed by 10:30 p.m., according to the Coast Guard.
You can watch a video of the rescue here.
This report has been updated with additional information from Alaska State Troopers.