The Ketchikan City Council Thursday night directed City Manager Karl Amylon to take measures to address the greater issue of homelessness and inebriation in Ketchikan by creating a task force. The motion did not include the removal of the wooden benches on Dock Street.
Several business owners have complained that use of the benches by homeless and/or inebriated people is driving away business.  Although within city limits, the benches are maintained by the Ketchikan Gateway Borough, under the borough's Parks and Recreation powers. The borough announced plans to remove the benches unless the city wanted to assume ownership and responsibility.
During public comment, four people spoke in favor of keeping the benches. Jessica Mathews is superintendent of the Ketchikan Correctional Center. Mathews spoke as a private citizen, not as a representative of the center. She says intoxicated people who have not committed a crime will often end up in jail because there is no place else for them to go.  Mathews says removing the benches will not solve the problem.
"There is no detox location in Ketchikan presently, and that's a shame. I'm hoping if there's a light at the end of this tunnel, that you're looking for a task force or a solution or some sort of resolution that we do it."
She suggested adopting the Stepping Up Initiative, a nationally-recognized program designed to reduce the number of mentally ill people in jails.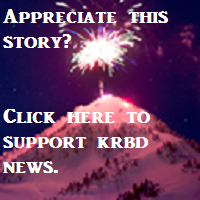 "You have experts in each field. You have the chief of police, the jail administrator, treatment providers, and mental health clinicians that can come together. And that's what this is about. If you're talking about a task force or something of that nature, this has a road map and some of the steps that we could use to try to come up with solutions and collaborate a little better."
City Manager Karl Amylon says the Borough Assembly, at its last meeting, suggested the issue of the benches be addressed by the joint City and Borough Cooperative Relations Committee. Council member Bob Sivertsen made the motion directing staff to take measures to address the larger issues of homelessness and inebriation.
City Mayor Lew Williams III says he supports setting up a committee or task force. He says this year seems to be particularly problematic.
"It seems to be an explosion this year on the numbers down there. Some of this is affecting city property profusely by Thomas Basin. I'm all for moving ahead and seeing what we can do. I don't know what the answer is. I don't know what kind of money we have for it. But we're not the only community going through it."
Council member Judy Zenge says there are agencies in Ketchikan set up to address these issues, and wondered if local groups are already working on the problem.
"And I think it's going to be important who's at the table, that we have the right players at the table. Some of these agencies, they're all great, but there are people dealing feet-on-the-ground with these people all the time. Those are the people that I'd like to see on there."
The Council directed Amylon to develop a proposal for consideration.
Council member Dave Kiffer asked, at the next council meeting, to revisit a discussion regarding the number of retail marijuana businesses that would be allowed in the city. Mayor Williams asked Amylon to speak with borough officials to verify mapped boundaries, and whether the city can limit the number of licenses issued.
Council member Dick Coose says there is no need for pot shops downtown.
"Right now it appears there's going to be one out in the Walmart area anyway. So anybody that needs it, for medical (reasons), because I think that's where we backed off a lot, it's going to be available to them. So there's not a need in the downtown area.  I think we need to really seriously look at it."
The council suggested limiting the number of marijuana retail stores within city limits to two. Staff will prepare a draft ordinance to present at the next meeting.
The next regular meeting of the Ketchikan City Council is September 1st.