Organizers announced last week that the Race to Alaska is a go for the summer of 2017. The 750-mile engineless boat race begins with a qualifying heat from Port Townsend, Washington, to Vancouver, British Columbia. Qualifiers then race to Ketchikan by sailing, paddling or using any other, non-motorized means.
2017 will be the third year of the race. Daniel Evans is the event's race boss. He says from the beginning, they decided to determine annually whether to hold another race. Evans says the main consideration is safety.
"Were we vetting the right people? Is this really the right thing to do? Are people challenging themselves? Do they have the capability to stay safe? Are they staying safe? That answer was 'yes' both years."
Evans says they also considered whether participants, viewers and organizers were enjoying the experience.
"We thought it was such a fun idea. It's been wonderful. It's been such a great thing to develop, and have received by others and clued others in. It was a question of 'Are we still having fun?'"
Evans says there's already interest in next year's race. He says Team KELP, with an all-female crew, completed the qualifying leg to Vancouver this year, but did not continue on to Ketchikan. He says when the team learned 2017 was a go, they contacted him and committed to finishing next year.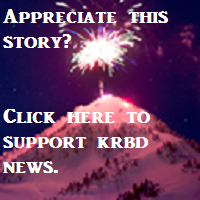 "They sent pictures and a real scroll, a proclamation, proclaiming their intention to do the race next year. On top of that, Matthew from Team Liteboat out of France has already said that he is designing a boat and wants to do it next year. We've had interest from a number of racers saying they're going to try it again, which always surprises me."
The winning team receives $10,000 cash. Evans says this in no way compensates the amount teams spend to participate, but is more of a prize of congratulations. He says the race is done to create a community, and light-heartedly pokes fun at yachting and racing in general.
"This race is, in part, a response to things that have become so elite, like the America's Cup and other races, that we have also created our own yacht club. It's a virtual yacht club. You can get parking passes, though we don't have a place to park, and a membership card, though we don't have a club house. But, they're excellent fodder if you're trying to get your way into any other yacht club or other parking events."
Evans says there will be some rule changes for next year. He says those will be revealed on September 9th during the Wooden Boat Festival in Port Townsend.