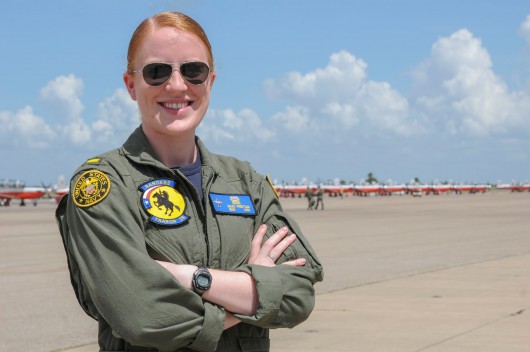 Ketchikan native and 2008 Kayhi graduate Mari Freitag is in Corpus Christi, Texas, participating in a training program that transforms U.S. Navy officers into Navy pilots. Ensign Freitag is a student naval aviator with the "Rangers" Training Squadron that operates the T-6 Texan II aircraft.
Freitag attended the University of Alaska, Fairbanks, studying political science and justice. She says during her last semester, she took flying lessons and decided she wanted to be a pilot. Freitag says she considered several avenues to achieve that goal.
"I was trying to explore which route I could take to be a pilot, and which one I thought I would like the most, and I ended up settling on the military – the aviation side of everything.  I applied to both the Air Force and the Navy and I eventually settled on choosing the Navy. Mostly because I like the idea of landing on ships because it seems really hard and so I wanted the challenge."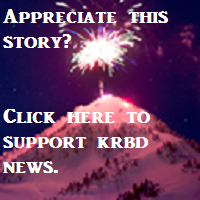 Freitag says she always wanted to be a police officer, and feels the aviation side of the military combined her two passions – justice and flying.
"I honestly didn't know I wanted to be a pilot, but looking back on my life – flying in floatplanes in Ketchikan with Ernie (Meloche), the ER doctor – it makes sense looking back on it all now. It was this weird path towards being a pilot. And while I was getting my private pilot's license, it just became very clear to me that's what I wanted to do with my life."
Freitag says she started her training in Pensacola, Florida, with aviation pre-indoctrination, a 6-week ground school class. She is currently in the second phase of her training, flying the T-6 Texan II.
"It's a turbo-prop aircraft. It's pretty awesome. I'm very lucky to be able to fly it. The part of the program I'm in now, primary, lasts about six months."
Freitag says after six months she'll be scored. That score will determine what type of aircraft she'll fly in the next phase of her training. She says if she scores high enough, she can train to fly jets. Freitag says it will be a year-and-a-half to two years before she gets her wings. She says she committed to eight years with the Navy after she completes training, but plans to stay in longer.
"I've been told if you do the absolute best you possibly can at your job, the Navy will never tell you what to do, but it's a lot of work. I love my job so far. I love being in the Navy. So I'd like to work as hard as I can for the mission, the Navy, and to, hopefully, stay in.  My goal is, honestly, to retire in the Navy, so serve at least 20 years."
Freitag says success in the Navy is due to luck, timing and hard work. She has been in the Navy less than a year, and doesn't know what the future holds, but Freitag says she eventually hopes to become a fighter pilot.