Southeast Alaska's largest tribal organization said this month's meetings with the U.S. State Department and Environmental Protection Agency were productive. Among other things, the agencies could help expand water-monitoring efforts along transboundary rivers
The 30,000-member Central Council of Tlingit and Haida Indian Tribes of Alaska set up the government-to-government meetings.
President Richard Peterson said representatives heard about potential and existing pollution from British Columbia mines near rivers that flow into Alaska.
"I think we gave them some of our concerns and questions and whatnot," he said. "That gives them a chance to go back and now have that next conversation that's more action-based and promissory in nature."
The federal officials met with tribal government and Native corporation leaders from Juneau, Ketchikan, Saxman, Douglas and Kasaan Aug. 9th-11th.
Peterson said they talked about water-quality monitoring along fish-and-wildlife-rich transboundary rivers. He said the federal officials were interested in supporting the effort.
"And we were able to use that as an opportunity to push for more funding for activities regionwide, so that other communities can do that baseline analysis that needs to take place," he said.
State Department and EPA public-affairs staff offered no comment on the meetings or any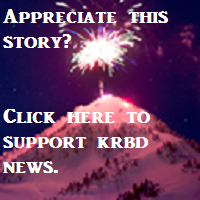 commitments made. That's common for federal agencies.
But Peterson said they agreed to hold further meetings, which will happen this fall in Washington, D.C.
Lt. Gov. Byron Mallott and other state officials presented their concerns at the meetings.
He said they brought up a U.S. Canada boundary-waters treaty that includes a commission tasked with resolving such conflicts.
"We emphasized that if, when, how, in what manner, that the IJC, the International Joint Commission, might be engaged that we would No. 1, welcome it and No. 2, be part of it to the degree that that was appropriate," he said.
Mallott heads up a state task force on transboundary mine concerns. He said his team also brought up the need for more federal support.
"To put it mildly, Alaska is resource-constrained, at least fiscal resource-constrained, right now," he said. "And these collaborations and network-building is very important."
Alaska and British Columbia officials have been discussing the state's concerns for more than a year. A statement of cooperation detailing ways Alaska can provide more input into mine decisions is nearing a final draft.