The Alaska Mental Health Trust took its first step toward logging Ketchikan's iconic Deer Mountain, along with a parcel in Petersburg.
During a Board of Trustees meeting Wednesday morning, the board agreed with staff recommendations to move forward with plans to negotiate timber sales for both parcels by Jan. 15th, unless Congress approves a bill trading that land for selected U.S. Forest Service land.
John Morrison is Executive Director of the Mental Health Trust Land Office. He said time is running out for the region's timber industry, and the trust needs to make money while it can.
"We've reached the recognition that we need to be prepared to harvest the timber that we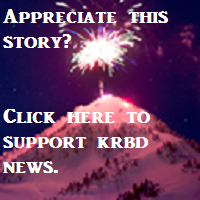 have while there is a timber industry to harvest it, in the event that the legislation is not passed this session of Congress," he said.
Morrison said the trust has been working on the land exchange with the Forest Service for about a decade. While he's optimistic that the land exchange will be approved, Morrison said this first step was necessary.
"Our process can be fairly lengthy, so this is to get the ball rolling and to let people know that we are serious about abiding by our mission, which is to maximize revenue to the trust," he said.
Revenue from trust lands is a primary funding source for mental health programs in the State of Alaska.
Morrison said the lands to be exchanged have been identified through an administrative process. It just needs to get through Congress.
"We would be very much in favor of the legislation passing and having a successful exchange," he said. "People who are concerned can certainly direct their efforts toward helping to pass that legislation."
The Ketchikan Gateway Borough Assembly recently approved a resolution urging Congress to approve S. 3006, the Alaska Mental Health Land Exchange Act of 2016.
This report has been edited to correct an error.