Jazz saxophonist Bob Kindred died August 15th in Nashville, Tennessee. He was 76. Kindred was well known in the Ketchikan jazz community, performing at First City Players Jazz and Cabaret Festival for more than a dozen years. Several Ketchikanites who knew Kindred shared their memories of him.
Bob Kindred was best known as a tenor saxophone player, but his first instrument was the clarinet. His father did not want him to pursue a career in music, so Kindred studied business and had a successful business career. At the age of 30, he heard Phil Woods in concert and decided to take up playing again. He studied with Woods for several years. At a time when the popularity of big band music was fading, Kindred was able to succeed, playing with the Glenn Miller and Woody Herman tribute bands, among others.
Since the early '90s, local theater group, First City Players, has held jazz and cabaret workshops. Elizabeth Nelson, Artistic Director of First City Players, says Anne Phillips was brought in about 1999 or 2000 to conduct vocal workshops. Phillips was married to Kindred at the time, and suggested he come the next year to conduct instrumental workshops. Nelson says the instrumental workshops lasted only a few years, but Kindred continued to return, backing vocalists.
"It was an astounding thing to listen to. When he was at his best, to sing with him, it was really having a conversation. It was just a musical conversation and he would listen to every single way you would inflect a lyric and he could answer that back sensitively. Really just beautiful in that way."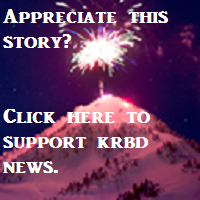 Nelson says during jazz and cabaret week, guest artists visit the local elementary schools.
"He could be so much fun. He could make the kids laugh. The last day, when we do the concert for the school, we always bring our guest artists in, so Bob would be part of that, and would just make the kids giggle with the sounds he could make through his saxophone and then they would just be rapt when he would play."
In 2010, guest artists Bob Kindred, Anne Phillips, Paul Meyers and Matt Perri were recognized as honorary citizens of Ketchikan for their work in the schools and contributions to the jazz community. The proclamation was signed by City Mayor Lew Williams III.
Baritone saxophonist Lynn Caldwell recalls first meeting Kindred. Caldwell was in his garage playing when there was a knock on the door at about 9 pm.
"He said, 'I heard some baritone sax in here. Are you kidding me?' Those were his exact words. 'Are you kidding me?' He was truly blown away by the fact that he comes to Ketchikan, he's living right there, no clue at all there was even a baritone sax player in town."
Kindred was staying at a bed and breakfast across the street and had heard Caldwell playing. They became fast friends and played together often, Kindred on the tenor saxophone, and Caldwell on the baritone. Caldwell says he had never played with a professional musician before, and learned a lot from Kindred.
"He taught me so much about the instrument – about mouth pieces, about reeds, about breath control. He couldn't practice for me, and I was still being lazy about learning scales and chords, but it really improved my playing. Particularly the sound. That's all I really cared about anyway. I loved the sound of the baritone."
Caldwell says Kindred had cancer about 20 years ago and wasn't expected to live more than 10 years. He says Kindred had many other health issues, made worse by a drinking problem and bad habits.
"He didn't complain much. A lot of people didn't even know those things about him. But it seems like it was such a waste for this great man to not be able to make more of a contribution than he was by getting his life under control."
Trumpet player Dale Curtis met Bob Kindred and Anne Phillips at the Fairbanks Summer Arts Festival. When they came to Ketchikan, Curtis played with Kindred in the Jazz and Cabaret Festival band. They also would just get together to play.
"I've been playing my whole life, and I've got a lot of professional experience, and I know a lot of tunes, and so does he. We'd just get together and play these tunes that we both know, and we both had such a similar style. For me it was really easy, phrasing, and I kind of knew what he was going to do. It made it easy."
In 2011, Curtis recorded an album "Bridge to Nowhere," at Bennett Studios in New Jersey. The members of the Dale Curtis Quintet were Curtis, guitarist Paul Meyers, bass player Christian Fabian, drummer Ed Littlefield, and Kindred on saxophone and clarinet.
"He asked me if he could do this song called 'Tenderly' by himself. So I let him do that and I'm glad I did because it's just amazing, his approach to that. Such a beautiful player and beautiful guy. He will be missed."
            (music under)
"He was always so gracious and so kind to other musicians. A good man."
Kindred lived in New York for many years but moved to Nashville about two years ago. Curtis says he spoke with Kindred about a month ago and, despite his health problems, Kindred continued playing and was still booking gigs.