The quota for this winter's annual wolf hunting and trapping season on Prince of Wales Island has been set at 11 animals, up slightly from last year's quota of nine.
According to an announcement from the U.S. Forest Service, the most recent population estimate of wolves in Game Management Unit 2 is 108, an increase from last year's estimate of 89.
The federal subsistence hunting and trapping season on POW runs from Sept. 1st through Nov. 15th. The state season starts on Dec. 1st, and will close whenever the harvest approaches the quota limit.
Last year's wolf hunting and trapping season sparked controversy because the population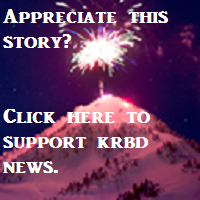 estimate indicated a steep drop in the number of wolves on POW.
According to the Forest Service announcement, this year's estimated increase shows that the wolf population has not declined since then, so the game management strategy can continue.