New York-based actor, comedian and dancer Tallie Medel is finding success in the independent film world. Medel grew up in Ketchikan and was in the First City earlier this month to visit family and friends.
Though she moved away from Ketchikan 12 years ago, Tallie Medel says she still considers Ketchikan home. She attended kindergarten at Holy Name School, and graduated from Ketchikan High School. Medel studied with Ketchikan Theatre Ballet, and appeared in several First City Players productions. After graduating from Kayhi in 2004, she went to Emerson College in Boston to study acting and theater education.
"I mostly studied education for my grandpa's sake because he wanted me to get a real degree, which I'm appreciative of, although I haven't used it in a little while. But I did come back and teach at ArtsCool for one summer here, and I helped out a couple other summers, which was fun."
ArtsCool is a summer theater education and performance program put on by the local community theater organization, First City Players.
Medel says she didn't realize she wanted to get into comedy, theater and dance as a career until she was applying for college. But, she recalls dressing up and going around Ketchikan in character.
"Caity Widness and I would dress as French women, or in our minds whatever French women meant, and refused to speak to anyone in English and smoke cigarettes – I'm sorry mom and dad – and walk around the docks in high heels. I would go to the Pioneer Pantry in character and order in character. To me, that was so much more fun than anything else."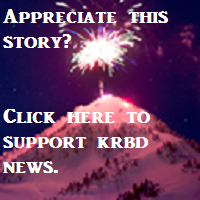 Medel is a co-founder and member of Cocoon Central Dance Team in New York. The other members are Sunita Mani and Eleanore Pienta. The three met in college. All come from small towns, and share a love of dance. Medel says Cocoon Central began somewhat as a joke.
"We thought it was funny that we were making our friends watch us dance. It was this talent show, sort of, atmosphere. 'Okay mom and dad, sit on the couch. We made up a dance so you have to watch us.' And then it just grew."
She says they performed on a variety show called "The Moon," and then began to do shows around New York City. Medel says the dance team has been successful. They have filmed sketch comedies, appeared on the Comedy Central show "Broad City," choreographed and performed a dance for the 2013 ING New York Marathon opening ceremonies, and appeared in "Cast Party" at NYU's Skirball Center.
"It's really beautiful camera work. There were all these huge jibs set up that were flying all over the place, so you can see us in this opera house performing. And (it was) filmed in a way that is so much more technically adept than anything else we've done before. Usually it was just, like, one of us setting up a phone."
In addition to the comedic dance troupe, Medel has appeared in several films. In 2013, she was named one of the top-10 female leads of the year by IndieWire, a news website dedicated to independent films, for her performance in "The Unspeakable Act." In the film, Medel plays Jackie, a 17-year old who is in love with her brother. Much of the story is told in voiceover.
"Yeah, I know. You want to grow up and have mature, adult relationships, and not immature, stunted ones like ours…One of the funny things about being in love with your brother is that you can say almost anything you want about him to anyone you want, because no one wants to go there."
"The Unspeakable Act" refers to the "i" word, but nothing sexual happens between the brother and sister. In the film, Jackie sets out to meet other boys and live life without her brother.
Medel also had a lead role in the 2016 independent film, "The Arbalest," and has key roles in "Abby Singer Songwriter," "Stinking Heaven" and "Uncertain Terms." She has appeared in music videos and has been featured in several short films. She also was in an episode of Comedy Central's "Inside Amy Schumer."
Medel is petite and youthful looking, and has played characters much younger than herself. Now that she is 30, she says she looks forward to playing older characters. Medel acknowledges that it's tougher for women in the industry to get cast as they age, but sees that changing.
"Luckily I can also work as a writer and a comedian, so I have a wider pool to pull from. But, if I was only acting, as a woman getting older, the roles do really start to disappear. I do see a shift in that now. I think that you can see from just everything on television (that) writers are getting much better at writing for women of all ages, so that's good."
Medel says she's proud of the films she's done so far, and all have done well on the independent film festival circuit.
"Which is very exciting for me because then I get to travel. And whenever anyone asks how to see them, I have to direct them to some independent film distribution or another. They're all good movies. I'm excited that all the movies I've worked on I care about."
While she is having success performing, Medel says she still keeps a job at a coffee shop as a safety net. She says that job gives her freedom to take acting and dance jobs when they come up.
Medel says she and her friends are pitching a show based on their Cocoon Central Dance Team. She says in the show, team members would play heightened versions of themselves.
"The stakes every episode would be impossibly high. It would always be day-in-the-life. You would mostly see us in our rehearsal studio, but every fantasy that we imagine is fully played out. If we are playing a chess game, you would see us as the chess pieces. It doesn't sound funny when I talk about it out loud, but it's really funny."
Medel says she looks forward to working on more roles that mean something to her. She is currently working on several independent films, and continuing with her comedy and dance.
You can learn more about Medel and see some of her work on her website: www.talliemedel.com