Alaska's Sen. Dan Sullivan has been in Ketchikan for a couple days this week. He spent Tuesday meeting with local officials, touring around town and celebrating the new House District 36 Republicans office at The Plaza mall. On Wednesday, he met with Ketchikan High School students, and spoke to a packed Chamber of Commerce lunch.
Sen. Dan Sullivan said visiting communities in Alaska, and hearing directly from constituents, helps keep him inspired in the Senate. It also helps him know what's important to Alaskans in those individual communities.
An issue that's come up repeatedly in Ketchikan, he said, is Deer Mountain.
"You know when you meet with community leaders – the borough mayor, the city mayor, the managers, private sector – and you hear the same topic in every single meeting, with a lot of passion and a lot of concern: It's very helpful. You get it. I get it," he said.
The Alaska Mental Health Trust board recently voted to move forward with logging the face of Deer Mountain if federal legislation to trade that land for other timberland doesn't pass by Jan. 15.
Sullivan is a co-sponsor of that federal legislation. He said he and Sen. Lisa Murkowski will work hard to get it approved, but there are limits to what they can do. He said other lawmakers are easily swayed by groups that might oppose the trade.
"I'm not sure we can get it through the Senate, because there might be outside environmental groups that think they know more about what's going on in Ketchikan than you guys do," he said.
But, as a former Alaska Department of Natural Resources commissioner, Sullivan said he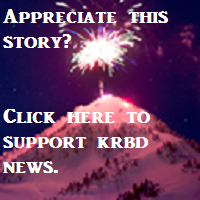 knows many of the state and Mental Health Trust officials involved. He said he's working on getting a meeting scheduled, so he can ask: "'Do you really understand that the community seems very, very, very uniformly opposed to what's going to happen here?' And that's not necessarily a good thing to have a strong community like this, that's a pro-resource-development community, to be really, really upset at the Mental Health Trust Authority."
Sullivan said Alaskans shouldn't be working against each other, and the different officials should be able to find a solution.
A recurring theme in Sullivan's address to the Chamber of Commerce was the need for streamlined federal permitting processes. He said it can take many years, and millions of dollars, to get the permits before any construction can even start.
During a media event after his talk, Sullivan gave some examples of attempts he's made to alleviate the burden of federal regulations. One bill he sponsored would have required federal agencies to remove one old regulation for any new one they plan to implement.
"Canadians are doing it. The UK is doing it. This is an idea whose time has come," he said. "Because a lot of other industrialized democracies are recognizing that their agencies … never have to prioritize their regulatory regime. Unfortunately, we had a floor vote on that and it didn't pass."
But, Sullivan said, he will continue to fight for that kind of streamlining, which he said has public support.
Another bill he sponsored that almost passed would have allowed state environmental agencies to waive federal permitting requirements – including lengthy, expensive Environmental Impact Statements – for projects involving rebuilding or repairing any of the 61,000 structurally deficient bridges in the nation.
Sullivan said those projects wouldn't change the footprint of the structures; they would merely improve safety. But, the bill fell short of passing by two votes.
Sullivan talked about judicial reform – specifically splitting the Ninth Circuit Court of Appeals, which covers Alaska along with West Coast states, Idaho, Montana, Nevada and Arizona.
Sullivan, who was a law clerk for the Ninth Circuit many years ago, said it's way too big.
"And those judges rule – judges in Pasadena, Calif, who don't know where Ketchikan is on a map – and they're ruling on Tongass National Forest and Roadless Rule issues when they don't have a clue," he said.
Sullivan said he's put forward a bill to split the court. But, he said, California lawmakers tend to block that kind of legislation.
Sullivan addressed the presidential election, as well. With Democratic nominee Hillary Clinton polling ahead of her Republican rival Donald Trump, Sullivan said he's worried about what that means for Alaska.
He said Clinton opposes Arctic development and resource development in general, and favors additional regulations on gun ownership. If she wins, and sticks with those policies, Sullivan said that will create more challenges for the state.
"But, I'll work with anybody," he said. "I have a good relationship with a lot of the Obama administration officials… I'll work hard to bring people up here, (and) have them understand Alaska better, because most don't."
Sullivan said he'll also do what he can during confirmation hearings for cabinet appointees, using that process to vet the candidates and make sure they understand Alaska's needs.
During his Ketchikan visit, Sullivan also planned to meet with local U.S. Coast Guard officials, and with veterans at the Ketchikan American Legion Wednesday evening.