Alaska is different. Those who live here know that, and now the Federal Communications Commission has agreed.
This week, the FCC approved the Alaska Plan, which will maintain federal telecommunications subsidies for Alaska telephone and wireless providers for up to 10 years.
Ketchikan Public Utilities Telecommunications Division is one of the companies that will continue to get those subsidies. Division Manager Ed Cushing said it's great news, because the loss of that $4 million annual Universal Service Fund payment would have been a big problem for KPU.
"The payment is intended to enable us to afford to build, operate and maintain the local telecommunications infrastructure," he said. "Absent that very large payment, we simply wouldn't be able to build the infrastructure, and if we did build it, customers wouldn't be able to sign up for any services because the price would be too high."
In recent years, the FCC has been reforming the Universal Service Fund program, which would have meant a reduction or loss of the federal telecommunications subsidy. Cushing said companies throughout the state, along with Alaska's Congressional Delegation, strongly lobbied the FCC to approve a plan that exempts Alaska from that reform.
Cushing said it's not always easy to convince officials in Washington, D.C., that Alaska is a special case. He said providing telecommunications services in this state involves numerous challenges.
"The first of course is our physical distance from the Lower 48," he said. "In the case of Ketchikan, we're approximately 700 miles from Seattle, which is the first main interconnection point to connect to the cloud, or the internet. So, we have to get from here to there. So, whether we get there via KPU's new digital microwave down to Canada, or we get there through GCI's undersea fiber, it's very expensive to build and operate those systems."
The cost of labor and materials add to that expense. Maintaining and operating the systems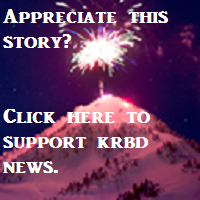 also costs more, and Cushing said there are fewer customers to help pay for those multi-million-dollar systems.
"It's one thing to invest $20 million in a suburb of Seattle that has 200,000 customers," he said. "It's another thing to invest $20 million in Ketchikan, where there are 5,000 customers."
So, the subsidy will continue and that's good news for KPU and other Alaska telecommunications companies – such as GCI, which provides phone service statewide, including Ketchikan.
But, Cushing said, Alaska companies had to make some promises in exchange. The first is providing faster internet speeds for rural communities that currently have very slow service.
"The second is, they've committed to building out infrastructure to unserved areas," he said. "That is, if you're going to receive these payments, you have to agree to build telecom facilities throughout the community that you operate in. You can't just collect the money and decide that you're not going to build anymore."
KPU has plans to extend its service to some nearby islands. Cushing said there aren't communities on those islands, but there are fishing lodges or individual homes that have not had service.
He said KPU also plans to speed up the current connection, in part through its fiber-to-the-home program.
"Our greatest challenge is having a large enough pipe between Ketchikan and Seattle to meet our customers' insatiable demand for high-speed broadband connectivity," he said.
Cushing credits the successful approval of the Alaska Plan to Alaska's Congressional Delegation. He said they all pushed hard to ensure the state can continue to provide and improve telecommunications service.