During his visit to Ketchikan last week, Sen. Dan Sullivan covered a variety of topics. We reported earlier on part of his presentation, focusing on the Deer Mountain issue and Sullivan's desire to curb federal regulations.
Here are a few other issues Alaska's junior senator touched on during his talk to the Ketchikan Chamber of Commerce.
Alaska's economy in the face of low oil prices has been a big topic for a while, and will continue to be for the foreseeable future. Sen. Dan Sullivan said that as a U.S. senator, there are three primary areas where he can offer support as the state figures out to respond.
He said the federal government's main areas of influence and responsibility are infrastructure building, resource development and taking full advantage of Alaska's strategic military location.
In support of infrastructure, Sullivan said Congress was able to approve a five-year highway bill last year, rather than a continuing resolution as it has in recent years.
"What we were able to do as your delegation is defend a very favorable formula,  put in there by Don Young and Ted Stevens, in terms of what Alaska pays in and what Alaska pays out," he said. "So, we have a highway bill. It passed. The president signed it. For the next five years, it's going to bring the state close to $3 billion dollars."
Sullivan said $20 million of that will go to the Alaska Marine Highway System in the first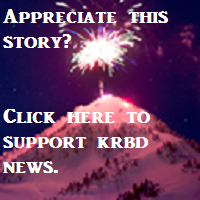 year, with increases for the ferries each year following.
Regarding resources, Sullivan said he defines that term broadly to include not only timber and mining, but fisheries. He said Alaska is the "superpower of seafood," and needs to be able to maintain that resource.
"Almost 60 percent of all fish and seafood products landed in the United States of America comes from Alaska shores. Sixty percent," he said. "We are the 800-pound gorilla in the industry."
Sullivan said he's worked with Sen. Lisa Murkowski and Rep. Don Young to push for healthy management of fisheries, and to encourage research for the industry.
When it comes to timber, though, Sullivan said it's challenging to get bills approved if they include measures favorable to logging. But, he said, the delegation has had some success with small land transfers, such as easements to allow road construction.
"When you go off on smaller chunks, you can start to do that. I think that's really important: more federal lands to Alaskans, so we can develop those for the private-sector employment opportunities we need here," he said.
Sullivan said another extremely valuable resource in Alaska is the children, and it's essential to provide a useful education for future generations. He touted the Every Student Succeeds Act, which he said passed the Senate overwhelmingly.
"Essentially, over the last 20 years, the power to educate our kids has been going to Washington, D.C…. So, what we were able to do with this bill is take that power and start shifting it back to where it belongs: Teachers, local school administrators, local school boards and the states," he said.
Regarding Alaska's strategic military use, Sullivan said the state offers the ability to deploy troops quickly to many different locations, and a great base for missile defense and air-combat power in the Pacific.
"Let me give you just one example," he said. "You may have seen that the F35 announcement, that Eilson Air Force Base is going to get two more squadrons. This is in addition to the F22s… Those are called Fifth-Generation fighter aircraft…. Alaska is going to have over 100."
Sullivan said he plans to continue encouraging U.S. military investment in Alaska.