The number of minors detained by the state's Division of Juvenile Justice has dropped by almost 50% over the past decade. The reason behind the decrease isn't completely clear, but it's a nationwide trend. Two juvenile crime experts say we have to remember the past to understand today's lower numbers.
The Ketchikan Regional Youth Facility closes on September 15. The closure will save the state money on a facility that regularly houses a fraction of the juveniles it was built to hold.
When the police arrest or charge a minor with a crime, they generally refer them to The Division of Juvenile Justice for punishment, or treatment, or both. Juvenile Justice says the number of kids being sent their way was almost cut in half over the last 10 years.
"Most of the kids never see the inside of one of our buildings," said Rob Wood, Juvenile Justice director.  "We deal with them informally or with parental supervision rather than put them in one of our programs."
Wood has seen the decrease firsthand. He started with Juvenile Justice in 1990.
"We've seen a fairly steady decrease for about the last 15 years," he said. "When I started with the division as a probation officer, my office in Anchorage got more cases referred to it than the entire state does now."
Wood doesn't know for certain why the number of referrals fell off so dramatically. But, he has some ideas.
"We have better services in the communities, we have better mental health services, we have better responses, kind of up and down the continuum, and perhaps that is leading to less kids being arrested."
Melissa Sickmund is the director of the National Center for Juvenile Justice. She agrees with Wood, but wants to approach the question from a different direction.
"You're asking the question about, 'why did things come down?' I think we need to step back and first ask, 'why had they gone up?'" she said.
To help make her point Sickmund points to a graph.
It gives a picture of how violent juvenile crime arrests changed over more than 30 years. It starts at 1980, starts climbing in the late 80s, and jumps REALLY HIGH in the mid 90s.
"For people who are old like me, you can remember that time," she said. "People were very fearful of kids, there was actually a lot of kind of blaming kids for all the violence in the country which was not accurate, but it got everyone's attention."
The line starts falling hard after a peak in 1994. Sickmund says each year she waited in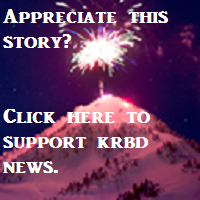 suspense to see if the crime numbers had fallen again.
They kept going down. There were years when they rose again, but not by much and then they fell even more. Sickmund emphasizes this is national data and every community is different. But, numbers from Alaska show a similar trend.
So, why did it happen? Sickmund points to one specific drug.
"People have hypothesized about crack hitting the streets and the violence associated with the crack market," she said. "I don't know if that's an issue in Alaska. Did you have a lot of gangs on the street selling crack?"
Wood says yes, we did.
"And maybe that was in part because of the transiency of population. There was a lot of money to be made in drugs and crack was an easy drug to manufacture and to sell. Some of the gangs out of California moved into Alaska not necessarily to be gangs but to be businessmen."
Wood and Sickmund both say the crack industry was extremely violent and Sickmund says kids played a big role in it. Now she's ready to talk about why juvenile crime stopped getting worse.
"Everybody responded to it."
Parents, schools, law enforcement, legislatures.
"There was a lot of money put into the system. There was also a lot of money spent on research to try to understand what was going on, what happens with kids, what works with kids and with adults too."
"Everybody did what they thought they could do to reduce the violence and then eventually it turned around."
The result in Alaska is eight youth detention facilities housing fewer juveniles than they can hold.