Have you been putting off buying new snow tires? Is your rain gear cracked and patched? If your answer is yes and you live in Southeast Alaska, you might want to remedy both of those situations.
The past two winters in Southeast Alaska have been mild, warm and – particularly in southern Southeast this past winter – almost devoid of snow.
But, Juneau-based National Weather Service Forecaster Kimberly Vaughan says El Niño is on his way out, heralding the arrival of La Niña.
"The fall has signatures of above-normal precipitation and temperatures, so sort of a warm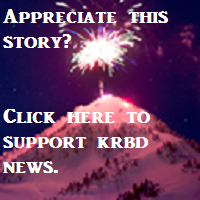 and wet fall," she said.
That's the prediction for October through December. But, how about winter?
"The January, February, March time, it's looking like we have better than normal chances of temperatures going below normal, with precipitation – there's no signature to say we should be above or below normal precipitation," Vaughan said.
So, that means snow-tire weather after January, right?
"That would be something to certainly consider," she said. "It's definitely looking like we should be seeing more snow than we've seen in the last couple of years. I should say better chances of seeing the snow over rain."
Vaughan cautions that this is a long-range forecast, so it isn't – and can't be – specific.
"This is a very broad brush," she said. "This isn't to say that this day or that day could be wetter or dryer. It's overall in the big synoptic picture."
But, while there likely will be a few dry spells, too, one thing you can count on this winter in our Alaska rainforest is plenty of precipitation.