The Ketchikan School Board meets in regular session Wednesday, and on the agenda is a report from the school district's wellness coordinator.
Emily Henry writes that Point Higgins Elementary School recently was recognized with the national Bronze Healthier Us School Challenge: Smarter Lunchrooms award. Henry reports that the award goes to schools that have created healthier environments through nutrition and activity.
Point Higgins is the second school in the state to receive the award. The first was Ketchikan's Tongass School of Arts and Sciences. As a winner, Point Higgins will receive $500 to be spent on health-related programs, and a banner to display at the school.
Henry also reports that obesity rates have dropped among Ketchikan School District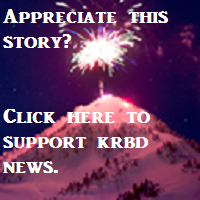 students. Through the Growth Measurement Program, she writes that students in preschool through ninth-grade are weighed and measured, and the results are sent to the Department of Health and Social Services for compilation.
Henry writes that in the 2015-2016 school year, the report shows the number of healthy-weight Ketchikan students increased to a little more than 58 percent, up about two percentage points.
Action items on Wednesday's agenda include various public hearings on policy changes. They include policies that regulate memorials on school grounds, student health examinations, and programs for suicide prevention, and child abuse and neglect.
The board also is scheduled to discuss the district's budget, graduation requirements, and the Alaska School Activities Association's policy on transgender athletes.
Wednesday's meeting starts at 6 p.m. in Borough Assembly chambers at the White Cliff building. Public comment will be heard at the start and end of the meeting.