The Ketchikan School Board on Wednesday rejected a policy that would have limited memorials at school facilities.
The policy was recommended by the Association of Alaska School Boards. It called for allowing one temporary memorial per loss that would be removed at the end of the school year.
Permanent memorials would have been limited to scholarships or awards, or items of historic or educational significance, such as collections of books.
During a public hearing on the policy, teacher Jennifer Karlik described some school-based memorials that meant a lot to her.
"My mom worked at Ketchikan High School when a teacher, Clarke Cochrane, died in the gymnasium. His portrait by the door to the gym that bears his name warms my heart because I remember who he was," she said. "When I see Bill Weiss' letterman jacket in the display case with all the letters on it, and then I watch my son wrestle in the Bill Weiss Tournament, it just gives me joy. When Jerry Galley died, the students were torn apart. I tutored students in my classroom who were holding pieces of the tree that his car ran into, feeling a little bit safe and listening to me and helping me catch them back up. There's a painting in the commons that Dave Rubin did that hangs, and I watched Sam Pitcher's friends have peace with that painting. The girls decorated Milisa Jakubek's locker after she passed away, and I watched the kids touch it as they walked by."
Karlik also mentioned various fields in Ketchikan that are named after people who have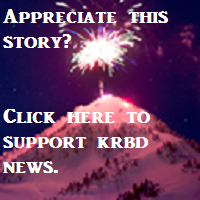 contributed to the community. She said memorials are important, especially in a small town where everyone is connected.
Following Karlik's comments, School Board members said they didn't think carefully enough about the policy when they approved it in first reading during the last meeting.
Board President Michelle O'Brien said this kind of policy isn't right for a small school system like Ketchikan's.
Board Member Glenn Brown agreed.
"I guess not everything that comes down the pipe from the state association fits us," he said. "I mean, we lost a high school teacher in the last year. The idea that: 'A memorial shall be limited to one per loss.' Wow. Let's get cold. You can't measure – 'Here's how much you're allowed to grieve according to district policy.' That's ridiculous."
The memorial policy was unanimously rejected in a 6-0 vote. Board Member Matt Eisenhower was absent.
Also Wednesday, the School Board discussed issues with First Student, the school bus company. Superintendent Robert Boyle noted that the company has had staffing problems, which has led to combining routes and some delays.
Boyle said the contract allows the district to fine the company when it combines routes and/or is delayed, and he has been levying those fines. He also met with First Student representatives, who told him they are working on solutions.
O'Brien said this isn't the first time the bus company has had service issues.
"I'm glad that we can levy them financially, but it's a shame that they cannot seem to get their act together enough to provide even an adequate service," she said. "I sincerely wish we had other options."
Superintendent Boyle said there were no other bidders when the district put the bus contract out for proposals.
The next Ketchikan School Board meeting is Sept. 28.