No more than two retail marijuana stores will be allowed within city limits following Thursday's vote by the Ketchikan City Council.
At its previous meeting, the Council had limited retail pot shops to one, but that prompted some public reaction. Five people spoke at the start of Thursday's meeting against the Council's previous vote. Two of those speakers have applied for retail marijuana business licenses.
Jason Kolanko wants to open a store on Water Street. He said his application and the planning process is pretty far along, and he's paid the application fee to the state. He asked the Council to at least allow two stores in the city.
Eric Reimer hopes to open a retail marijuana store on Stedman Street. He said limiting the number of stores to one is a bad idea.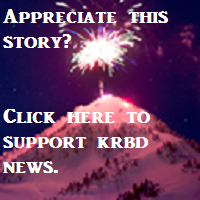 "It would create a monopoly for whichever one shop that was there. It's not a good business environment," he said. "And then it comes down to how are you going to vet what shop you're going to pick? Which retail shop is going to get that one license? All of a sudden, you're making us fall at each other's throats for a business opportunity. It's not fair to anybody."
During Council discussion of the issue, Council Member Dick Coose said his biggest concern has always been keeping marijuana out of downtown, and away from the main tourist areas. He added that if there isn't a limit, there will be too many pot shops, just like jewelry stores.
The City of Ketchikan doesn't have zoning powers, however, and while the city can ban retail pot outright or limit stores throughout the city, it can't limit stores in particular areas without going through the borough.
City Attorney Mitch Seaver added that the Council could approve a limit, and then later increase the number of marijuana stores allowed in the city. But, the Council could not reduce that number.
The Council voted unanimously 6-0 to limit the number of retail marijuana stores in Ketchikan city limits to two. Council Member KJ Harris was absent.
The Ketchikan Gateway Borough can still allow additional stores to open outside of city limits.