Ketchikan Youth Initiatives had a Sunday-Funday event at the Woodsball Paintball Course September 11. Novice and veteran players participated in a clinic with a former professional paintballer.
The KYI paintball field opened in 2006 and, from May through October, offers play to those age 12 and up. The program has an adult adviser, but youth help with running the operations. Nathan Kuehl says he enjoys helping out and, the sport keeps him active.
"I don't want to spend all my days indoors, being lazy. This program has been getting me outdoors, which is really great. And it's really fun to do. I'm usually working around the clock – fixing paintball guns, helping other people understand how to shoot and to not be afraid to get hit by a paintball."
Kuehl says getting hit can sting, but only for a few seconds.
Fred Wyne was a professional paintball player. He grew up in Minnesota but now lives in Ketchikan. He says he's been involved with Ketchikan Youth Initiatives since he moved to the First City five years ago.
Growing up, Wyne says he went to a local paintball field when he 14 and was immediately hooked. He asked the owner for a job to help pay for the cost of playing. Wyne was hired as a referee and after three years was promoted to field manager.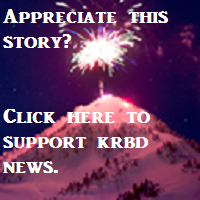 "Just like the young kids here, I was running the field for her. By the time I was 20, she decided that she wanted to get out of the paintball business, and she sold me her paintball field and her store."
That was how Wyne got into the "business" part of paintball.  But several years before taking over the business, at age 16, he joined an amateur team. Wyne says the team competed in local, regional and national tournaments, and eventually picked up sponsors.
"Sooner than later, they're paying for us to travel the country and going to national tournaments."
Wyne says he came out on Sunday to share his more than 20 years of experience playing on professional teams.
Before heading out for play and instruction, youth organizers went over about a dozen rules.
"All referee decisions are final. Don't argue with the referee, it just makes the game take longer. No alcohol or illegal drugs allowed on the premises. Anyone using or under the influence of alcohol or any other substance will be ejected from the field. Repeat offenders will be banned from the facility permanently."
A mesh fence surrounds the field. That allows spectators to watch, but be protected from paintballs. Anyone entering the field during play is required to wear a face mask, whether playing or not.
Wyne gave instructions on strategies for organized team paintball. He says one of the most important things in paintball is knowing the field.
"I want everybody just to walk the field and look at it. Think of it like a chessboard.  Try to figure out where bunkers are, and just take two minutes trying to get to know the field."
Wyne says there are always one or two key bunkers that can help you win the game. He says a player strategically placed can be well protected and get side shots in both directions.  Wyne says while walking the field, team members should name the bunkers to aid in communication.
"So when the game starts, and we're playing, say, 5-on-5, and we yell, 'There's one in the complex, we have two in the base, and one in baby bear and one in papa bear,' we know where everyone is on the field."
Wyne says communication between team members is key to winning. A player may not see an opponent in a bunker, but will know one is there if a team member yells out the name of the bunker.  After discussion, Wyne had teams gear up and begin a series of drills.
"Don't be afraid to change bunkers. Shoot and move. Shoot and move. Player's eliminated."
Allyssa Ray began volunteering at the paintball field this year, but had not yet played. She explains why she got involved.
"There's not really adults saying, 'Do this or that.' It's like, 'Okay, we need to get this done today, so whoever can help on that, you should do that.' It's a little more free and open. It's really fun."
Ray decided to give play a try that day.
"I got hit in my bruise I got earlier today, and that kind of hurt. But other than that it was really fun."
Despite a little discomfort, Ray says she would definitely play again.
The Woodsball Course is at about mile 4.2 Revilla Road. It's open May through October, Sundays from 3 – 7 pm.