Despite reservations from some Assembly members, a resolution calling for the formation of a home-rule charter committee was approved Monday by the Ketchikan Gateway Borough Assembly.
The Assembly's vote kicks off the process for creating a charter committee, but doesn't guarantee that the process will be completed. The borough still needs to find at least seven people interested in drafting a charter.
The committee must be elected by a vote of the public. Nominating petitions will be available starting Oct. 7 for anyone interested in serving on the committee. The deadline to file is Nov. 4.
The resolution starting this process was submitted by Assembly Members Glen Thompson and John Harrington. Harrington said he's wanted a home-rule charter for the borough for a long time. He argues that with such a charter, the citizens of the borough can clearly spell out their expectations.
"I like the idea of having a nice, tight structure," he said. "And this process of having a charter would, I think, give us that."
Ketchikan's borough is a second-class borough. In their sponsor statement, Thompson and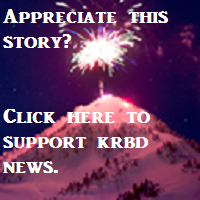 Harrington argue that with a home-rule charter, the voters could establish limits for the government, including tax caps; and require voter approval for certain actions, such as taking on long-term financial commitments.
Harrington stressed that the charter has nothing to do with consolidation or unification.
Assembly Member Bill Rotecki, participating by phone, said he's not necessarily opposed to a home-rule charter process, but he'd prefer to start with public meetings to determine how much interest there is.
Thompson, who also called in to the meeting, notes that the charter commission process includes public-input meetings.
Assembly Member Stephen Bradford also called in to the meeting, and said he hasn't heard a groundswell of support for such an effort, and he's not sure about spending $16,000 on a special election.
"But as I understand it, there will not be election if there are not seven members that sign up to run," he said. "So, I will defer to wiser heads and perhaps they are aware of support that I'm not, so I will vote I favor of seeing if there are seven interested persons."
Most of the absent Assembly members, along with Borough Mayor David Landis, are in Petersburg for the fall Southeast Conference meeting, which starts Tuesday. Landis also called in to Monday's meeting.
Assembly Member Alan Bailey expressed some concern about the charter process. He said he'd like to make sure it doesn't result in additional government and additional costs.
Assembly Member Mike Painter wondered who would serve on the charter commission.
"As I recall in the charter commission for consolidation, the election and nominations, there had to be at least two members outside the city, two members inside the city, at least one from Saxman, (and) a member at large," he said.
Harrington said that distribution was specifically created for the consolidation committee. This charter committee would be open to all registered borough voters, without designated seats for specific areas.
The resolution passed 6-1 with Rotecki voting no.
Monday's vote calls for a mail-in election. So, if enough candidates file for the seven-member charter commission by the Nov. 4 deadline, election ballots would be mailed out on Nov. 23, and would be due back by Dec. 13.
Also Monday, the Assembly talked about the Alaska Mental Health Trust's plan to log Deer Mountain if a federal land exchange isn't approved by Congress before Jan. 15th. The Assembly directed Borough Manager Dan Bockhorst to continue promoting the land exchange, and to encourage Alaska Mental Health Trust to change the announced deadline.
There was discussion about whether the borough should get more information about potentially purchasing the site, but there was no consensus on that topic.