Ketchikan Gateway Borough Mayor David Landis is running unopposed for re-election. He joined candidates for Borough Assembly during last week's Chamber of Commerce candidate forum, answering questions submitted by audience members.
David Landis has been borough mayor for the past two years, and served previously as a Borough Assembly member, as well as on the borough's Planning Commission and ethics board.
He's also executive director of the Southern Southeast Regional Aquaculture Association.
Landis said he's running for re-election to help the borough as it works through another tough budget year, and as it chooses a new borough manager. The current manager, Dan Bockhorst, is retiring at the end of this year.
Keeping a close eye on spending was a recurring topic during the forum, and one question asked whether the public should vote on any borough project that would cost more than $1 million. Landis didn't answer yes or no to that. He said public input is important, but special elections are costly.
"And large expenditures are typically funded through bond debt that is voted on by the people anyway," he said. "So, I don't know where the threshold level is — maybe a million dollars, maybe somewhere north or south of that."
But, Landis said, he would be interested in hearing more discussion of that proposal.
Another question focused on the borough's role in economic development. Landis said the government should provide the infrastructure needed for businesses to succeed.
"Specific to the borough, I think some of those CPV funds are used for projects that support business," he said. "Our support for the Small Business Development Center is important. And other examples, too: I work in the fishing industry. Some of the improvements to infrastructure in the water and on land to support that industry are appropriate. I'm thinking of the net float, the drive-down dock and things of that nature."
The CPV money Landis referred to is the borough's share of the state's Commercial Passenger Vessel head tax. The borough receives about $2 million annually from that head tax, and the money is supposed to go toward projects that benefit cruise passengers.
Landis also was asked about the borough's sometimes-contentious relationship with the City of Ketchikan. He said all the local governments – including Saxman — should cooperate to help the entire community. He said Ketchikan's population is rebounding, and the local economy is holding on, so…
"Governments should work together to make it even better," he said.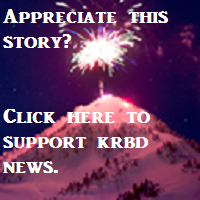 The issue of Deer Mountain came up, and Landis said he supports logging, but not in Ketchikan's back yard.
Alaska Mental Health Trust announced recently that it would move forward with logging a portion of Deer Mountain if a federal land trade isn't approved by Congress before Jan. 15th. Many area residents oppose logging on that site because of its high visibility and close proximity to the city.
"The unfortunate placement of that land that's owned by the Mental health land Trust Office makes it a very difficult thing for them and us both," he said. "They have a duty to maximize their value, and we have a community that really has grown up with an intact forest immediately behind our town in the viewshed."
Landis said the borough should continue encouraging Congress to approve the land trade, which would provide federal timberland elsewhere in Southeast in exchange for Deer Mountain and other Mental Health-owned land close to various communities.
Landis said Ketchikan also should explore the idea of purchasing the site as a backup plan.
The local election is Oct. 4.
KRBD aired a report last week focusing on Borough Assembly candidates who spoke during the Chamber forum. You can read that story here.