Candidates running for Ketchikan City Council participated in a Chamber of Commerce forum this week.
Questions and answers progressed quickly during the one-hour lunchtime candidate forum featuring incumbent City Council members Julie Isom and Judy Zenge, and challenger Spencer Strassburg.
The first question was whether the cruise industry in Ketchikan is big enough, and does the community really need to expand the dock to serve larger ships?
Strassburg said Ketchikan needs to maximize tourism in Ketchikan and get all the revenue it can out of the visitor industry. Isom and Zenge agree that the industry should be allowed to grow, but that growth will require some infrastructure improvements.
A related question asked whether the city could prohibit stores from closing during the winter months. Isom said she would prefer to provide incentives for stores to remain open.
Zenge said it would be nice to have all the downtown stores open in the winter, but.
"I think that the city already decides too much about businesses," she said. "I think business owners know their business and it should be left up to them to make those decisions, not City Council."
Strassburg said such a rule wouldn't make sense for seasonal tourist shops, because the customers aren't here in the winter.
An audience member asked why the candidates believe voters should choose them. Isom said it's because she doesn't have a platform.
"I have no political aspirations; I don't want to do this as a career," she said. "And I hopethat people remember that I will listen to all sides. I'm open to listening to your side, another person's side and then I'll make an educated decision from that."
Zenge said she's fair, willing to ask tough questions and works hard. Strassburg said that while he isn't a single-issue candidate, he is the only person running with any direct knowledge and experience with cannabis.
Strassburg owns a downtown business that offers marijuana paraphernalia, and he's been an outspoken advocate for legal pot sales.
Marijuana was a recurring topic during the forum. An audience member directed a question at Strassburg about a video he put on his campaign Facebook page that poked fun at the other candidates, and the Council in general.
Strassburg said he didn't mean to be malicious – it was merely a fun way to spread his message.
"I like the other candidates. I don't mean to make fun of the candidates; I'm making fun of what's being said," he said. "There's a lot of us that are really frustrated."
The video used clips from a recent Ketchikan City Council debate regarding limiting the number of retail marijuana stores in city limits. Those clips were combined with clips of goats bleating, along with other images and sounds.
In response to the video, Zenge said "stuff happens" and she prefers to rise above the issue.
"Is it irritating? Yeah, it is a little bit," she said. "Not so much for what I said, but for God's sake, if you're going to put a video up of me, could you make me look a little thinner? You had all these special effects in there, and yet you failed to use the one that was the most important. I'm very disappointed. Otherwise, I'm good."
Strassburg responded: "It's the very first time I tried that app. I will look for the thin button."
Isom said the video is funny unless you are the target of the jokes, and she felt targeted. She said the video was misleading and took some of her comments out of context.
The Council did approve a limit of two stores within the city. Isom, who previously supported a limit, argued during that meeting — and again at the Chamber forum — against any limit. She said she changed her mind and believes the market can determine how many stores the city needs. However, Isom did eventually vote in favor of the two-store limit.
Zenge said she wants to start with a limit of two stores, because pot is a brand-new industry and she doesn't know how it will affect other businesses.
Strassburg said the community needs at least six licenses available – two for downtown to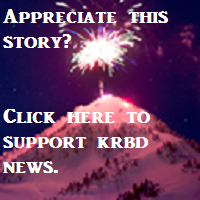 serve the tourist industry, two elsewhere for local residents, and two licenses available, but not issued, in case demand goes up.
Another submitted question asked whether the candidates support the continued sale of pornography through the city-owned Ketchikan Public Utilities Telecommunications Division's cable service.
Each candidate noted that pornography is legal and they would not vote to ban it from the cable service.
There are two open seats on the Ketchikan City Council. We posted an earlier report about the three candidates that focuses on other issues. You can find it here.