Ketchikan's New Horizons Long Term Care unit at PeaceHealth Ketchikan Medical Center was awarded the Recognition of Quality Achievement during the recent Alaska State Hospital and Nursing Home Association annual meeting.
According to an announcement from PeaceHealth, the award recognizes New Horizons' quality improvement efforts, the unit's elimination of health-care-acquired conditions and its improved patient satisfaction.
A system the unit adopted to reach those quality goals is called CHAT. That acronym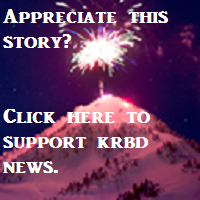 reminds caregivers to make sure call buttons and a beverage for hydration are easily available to residents; that caregivers regularly assess residents' physical position to make sure they're comfortable and safe; and regularly check patients' toilet needs.
Marguerite Auger, New Horizons activity director, says the CHAT system has helped to improve the already-low fall rate, and has strengthened awareness among caregivers at the unit.