Three Ketchikan School Board candidates will be on the Oct. 4th ballot, and a fourth is running as a write-in candidate.
Kim Hodne, Trevor Shaw, Conan Steele, and Kevin Johnson joined KRBD's Leila Kheiry this week for a live call-in candidate forum. Here's a summary of the event.
Ketchikan voters now have four candidates running for two open seats on the Ketchikan School Board. Incumbent Trevor Shaw is seeking re-election; and he'll be joined on the ballot by Kim Hodne and Conan Steele.
Kevin Johnson filed this week as a write-in candidate for School Board. His name won't be listed on the ballot, so anyone who wants to vote for him must fill in the oval for "write-in candidate" AND write his name in the space next to that oval.
During introductory remarks, Shaw noted that he was first elected when he was just 18 and still a high school student. He said it's been an honor to serve three years on the Board. One of his duties has been co-chair of the School Board-Borough Assembly liaison committee.
"We've been able to do a lot of great work there," he said. "I've had the pleasure of being able to be part of improving the relationship between the School Board and the Assembly."
Steele has worked as a teacher in Alaska and locally. He served previously as an appointee on the Ketchikan School Board, filling in for a member who had resigned. He said he wants to serve again on the board because he has a child about to enter the school system, and he'd like to help the district get through the next few years of likely budget cuts.
"Like it or not, when you're presented with less money you have to figure out what you're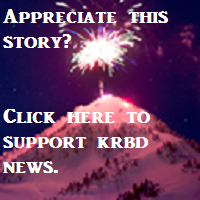 going to do with it," he said. "We're going to have to be innovative, we're going to have to be judicious, we're going to have to be very smart about how we're going to spend our money in coming years; how we're going to do more with less; and how are we going to maintain that quality when it comes because there's really no doubt in my mind that it's coming."
Hodne said he's running to help the kids in the community – to help maintain the quality of education that the district has provided and should continue to provide. He said he's also like to improve the relationship between the School Board and the Borough Assembly, which he said blew up last year over the issue of in-kind services.
"Yes, the relationship is improvement, but last year, listening to it in social media and on the radio, it was just: 'We can do better than this.' I want to bring back — take the emotion out of the conversation," he said. "Let's deal with the facts. We need to get back to reality and what's important. And what is important is the education for the kids."
Johnson has worked as an educator, and said he has two children in the school district, and a third who graduated from Ketchikan High School. Johnson said Ketchikan is a great community for raising kids, and he wants to help the school district maintain, and improve, its quality.
Johnson said he originally planned to file in time to be on the ballot, but life happens and he wasn't sure at that point that he could commit to serving on the School Board.
"And I believe, representing kids in our community is a 100-percent commitment," he said. "But the great gift of life is that sometimes circumstances change. It's going to be quite the challenge for me because I have to do it as a write in, but I think that the opportunity is there and I've been given the grace to be able to take that opportunity so, I'm in."
Developing the School District budget is a primary responsibility of the Ketchikan School Board. With revenue getting tighter, Steele said he would like to reform the current program-based budget, which he said doesn't provide enough flexibility when money is short.
"We may be reaching a point where program-based budgeting has reached its limit of effectiveness and you do have to start spreading the hurt, you do have to start looking for efficiency," he said. "How do you do that? I don't have an easy answer for that, but I know that when the time comes, you gotta be willing to take that on, you gotta be willing to find a solution. I think everything should be on the table. We're going to have to find a workable solution that does the most good for the most people."
Shaw, though, disagrees. He said program-based budgeting allows priority programs throughout the district to remain in place. Shaw said cutting all programs by a certain amount would leave some schools in a worse position than others.
Johnson agrees with maintaining program-based budgeting, but he'd like to see more community input on what programs should be given a high priority, and community partnerships to maintain those programs.
Hodne said there really isn't any more cutting that can happen in the school district budget. There is, though, the potential for additional local funding, he said, because the borough currently does not fund schools to the maximum level allowed by state law.
"Nobody wants to hear that ugly word. I own property. I'm conservative as far as fiscal goes, and I'm not interested in a tax increase to raise the school budget," he said. "But, the point is, if two years down the road, if things really start caving in, we still have that room in our cap, in our tax base, to make up an ugly deficit that could be caused by the state or the feds. We're not capped out like Juneau and so many other people."
The candidates also addressed alternative teaching methods to reach students with different learning styles. They all agreed that the Ketchikan School District does a good job reaching diverse student needs.
Steele said targeted teacher training helps educators reach different students; and Hodne said he'd be interested in trying to expand the district's options.
Johnson said he'd like to see the district explore concurrent education for kids who want to get a jump-start on post-secondary education.
"My son's college roommate right now is a sophomore in college and Isaac is a freshman. Isaac was done with his credits to graduate probably when he was a junior. So basically, his senior year, he really didn't get a great deal out of it that really prepared him for college," he said. "That's something that I think needs to change."
Johnson said he has ideas of how to pay for such a program, but he'll share that plan at a later time.
Shaw said he is a product of one of the district's alternative education programs. He said about 10 percent of Ketchikan's students are in some kind of alternative education program, and Ketchikan's system is a model for the state.
"Whether it be Revilla or Fast Track or combinations thereof. We're doing a really good job of taking the puzzle of education and making it fit to the way that works for each student so they have the opportunities they need to succeed and to do extremely well," he said.
During the on-air forum, a caller asked whether any of the candidates had a conflict of interest. Johnson noted that his wife is a teacher in the district, but he doesn't believe that will affect his ability to serve.
You can listen to the entire one-hour forum here.