Last week, Ketchikan residents gathered at the Southeast Alaska Discovery Center auditorium to watch an hour-long video called "Chasing the Dragon." It's an FBI-produced film about opioid abuse. After the film the audience and a panel of experts talked for two more hours about the problem of drug abuse, and what individuals in the community can do to help.
The FBI film, "Chasing the Dragon," is part of a national campaign to raise awareness about opioid addiction, which has increased in recent years and has become particularly problematic in Alaska.
"Based on 2012 data, the opioid death rate from prescription painkillers was double the national average. And based on 2012 data, the heroin OD death rate was over 50 percent higher than the national average."
Andrea Patton is a federal prosecutor based in Anchorage, and was among the panel of experts that answered questions after the audience watched the film.
Also on the panel were local law enforcement officers, judges and prosecutors, a pharmacist, people who work at health and social services agencies in town and a recovering addict.
The panelists didn't give presentations; they were there to answer questions. Most in the audience wanted clear answers. But unfortunately, the panelists pointed out, the solution to addiction isn't clear.
One audience member talked about her son, who is an addict and is going through treatment. She said he needed inpatient rehabilitation, but a local counselor said outpatient was a better way to start.
She said she knew that wouldn't work, and her family ended up spending thousands of dollars sending her son to inpatient treatment outside of the community. She wanted to know why outpatient is recommended first.
Steve Parker runs the local KAR House, a residential substance abuse program. He said families suffer the most when someone is addicted, and part of the ongoing problem is that addicts lie. Counselors do the best they can with the information they're given, he said, but
"People don't want to wake up and go to treatment," he said. "Whether it's alcohol addiction or it's a heroin treatment.  They don't say, 'You know, this is a great day to go to treatment.' They just don't do that. So, we've got to have a hammer to get people to do things."
Sometimes that hammer is wielded by family members; more often it's the court system.
Another audience member said the court system is too nice to people convicted of drug offenses, and that was echoed by Joe Williams. He told the panelists that he wants Ketchikan to become known as a place that is tough on drugs.
"I want that. I want the people who are using – they could be in this room; the people who sell in this room. I want it taught that that you have a community member that wants Ketchikan to be tough on drugs," he said. "Not to the user, but to the one that's selling it."
Superior Court Judge Trevor Stephens noted that local judges must apply the law within the parameters set by the state. He said dealers are treated more harshly during sentencing. With addicts, Judge Stephens said the focus is on treatment rather than punishment.
He said a newly approved bill will lessen the consequences of using drugs. It's a program that's shown some success in other states.
"The idea is you save money on jail and you have to reinvest a part of that money in these types of programs that we're talking about," he said. "So, you have more residential beds, you have transitional beds. That's the part of this bill that's supposed to kick in in the next couple of years, so we'll see if that happens."
Local prosecutor Ben Hofmeister told the audience that, as important as treatment is,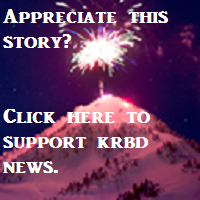 prevention should be the main focus of everyone's efforts, because it's much more challenging to fix a drug problem once it's taken hold.
He said part of that is making sure kids have the information and support they need to resist the temptation.
Kevin Gadsey of the Ketchikan Wellness Coalition told his fellow audience members that his group is working on prevention and education. He said programs meant to "scare kids straight," as a few audience members suggested, have been shown to not work.
"What does work is positive peer pressure," he said. "What also works is parents and loved ones getting involved in their children's lives, but also stepping forward and setting the boundaries."
Gadsey said the Wellness Coalition has peer programs in place in the schools. Parents can set boundaries by paying attention, getting lockboxes for prescription medication and searching backpacks if there's even a hint of drug use.
Many in the audience wanted to know specifically what they could do to help. Mike Duxbury heads up the statewide drug enforcement unit for the Alaska State Troopers, and said the most helpful thing that concerned individuals can do is talk to law enforcement.
"We need help," he said. "We are part of your family, we have kids in your community and we intensely believe that in order to make this a better place, we have to have some help from you folks."
So, tell. Tattle. Snitch. Because, Duxbury said, information is the primary tool they can use to slow and maybe stop an epidemic of addiction.
You can watch the "Chasing the Dragon" video through this link.
Thanks to KRBD's Deb Turnbull for attending the forum and recording the discussion for this report.