Representatives of Ketchikan High School's volleyball team came to the Ketchikan School Board Wednesday with a long list of complaints, including gender bias, alleged violations of Title IX, and objectification of the athletes involved in volleyball.
Volleyball team captain Kinani Halverson told the board that she felt sexually objectified when a School Board member attended a game and polled audience members about how the uniforms fit on the girls.
"This poll served to bring unwanted, unnecessary and inappropriate attention to our athlete's bodies," she said. "It should never have been used as a justification to alter our uniforms. My personal take is that someone who represents me as a student of the Ketchikan Gateway Borough was found to be the one discriminating, objectifying and sexualizing me as a young woman and athlete. Personally, as a victim of sexual assault, I refuse to stand for this behavior."
Halverson said she's angry and hurt, and wants an apology as well as an independent audit of the district's compliance with Title IX. That is a federal rule that school districts provide equitable opportunities to girls and boys.
As a result of that board member's informal poll, Halvorson said, the school spent $2,000 on new shorts, when what the team really needs is new jerseys. But, she said, nobody asked the team or its coaches.
Tylynn Ward is one of those coaches. She said there are ongoing issues, but the uniform issue is particularly worrisome, because of the attention placed on the team members' bodies rather than their abilities.
"The way these girls are being viewed not as athletes but as girls in bootie shorts, if you will.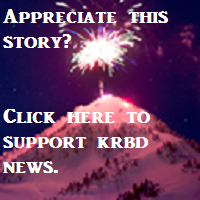 It's not OK," she said.
While not named by the speakers, Board Member David Timmerman said he was the one who polled people about the uniforms. He said he loves volleyball, and he asked some other female athletes who had been watching the game why they didn't play that sport. Timmerman said they told him it was because of the uniforms.
He said he then polled about 50 people of various ages over the course of a weekend and everyone told him they were not comfortable with the uniforms.
"So, me as a parent, also being uncomfortable with some of them – and I'm talking about the very, very short shorts," he said. "I want to look down and see everybody as an athlete, and I think everybody in that gym wants to, too. There's people on the national level, there's colleges that are switching to longer uniforms that aren't so revealing. If somebody wants to say I was objectifying in a sexual manner? That's not it at all. If anything, I'm trying to protect the women – the girls that are out there."
Timmerman did apologize to Halverson and other students who were upset.
Another problem noted by speakers was an inadequately supplied medical room for the first couple weeks of volleyball practice. Coach Rebecca Clark said the ice machine wasn't plugged in and there was no tape during a practice when two girls rolled their ankles.
Board Member Matt Eisenhower suggested that the medical room problem could be related to budget cuts.
"I bring that up because when you talk about not having ice, not having tape in those rooms, I sure hope it's not because we can't simply afford to make that happen," he said.
Clark also told the board that the activities coordinator apparently dropped the ball on lining up volunteers and referees for a day-long volleyball event, even though a list of names was provided weeks in advance. Clark said the only certified referee in town was notified 15 minutes before the first game.
"Our coordinator did not coordinate," she said. "To me, that's the basic job description: You're a coordinator. It should have been taken care of. Unfortunately, I'm not going to go into more, but I just feel like this isn't the only incident. There's a lot going on where either the coordinator needs some help or we need a new coordinator."
April Edenshaw said concerned parents and coaches did try communicating first with Ketchikan High School officials, but received little to no response.
"Or dismissive comments such as, 'By not responding to your email or phone calls, it is actually an answer,'" she said.
Edenshaw said the group is concerned about inequity, not just for volleyball, but in how much fundraising is required for various sports.
"In some instances, girls are required to fundraise more than boys, even if it is the same activity or sport," she said.
Sharyl Yeisley told the board that because Kayhi didn't send a representative to a regional sports scheduling meeting, the volleyball team has very few home games and an arduous travel schedule, which will be more expensive than anticipated. That means the team will have to raise even more money than they had planned for.
Hannah Ramiskey said her granddaughter and other members of the volleyball team will be traveling for games every weekend for two months.
"The failure to negotiate our games at home is an economic issue for my business, everyone's business who has to donate to every activity that comes down the pipe; it's your issue because you have to pay more to have these kids travel," she said. "We should be negotiating our hardest. Juneau Douglas or Sitka or whoever should not be getting off the hook because we didn't do our job."
Kayhi Principal Bob Marshall told the board that he supports his staff and he hopes that people don't rush to judgement until all the facts are known. He said he will look into the various issues raised by the speakers.