Three of the four candidates running for two seats on the Ketchikan School Board attended this week's Chamber of Commerce election forum.
Kim Hodne, write-in candidate Kevin Johnson and incumbent Trevor Shaw answered questions for about an hour. Conan Steele was unable to attend because of work.
One question was submitted by Hodne's granddaughter, who attends Houghtaling Elementary School. She asked how he, and the other candidates, would make her school better.
Hodne said he would focus on improving infrastructure.
"So, Riley, one of the main pushes and what has been on the books for a while and needs to come to a conclusion is the re-roofing of Houghtaling, along with the mechanical problems and some issues at Point Higgins," he said. "And, maybe even a cover on the playground at Houghtaling, Riley, so you're dry for recess."
Johnson said he plans to get into the schools, and talk to kids, administrators and teachers
to find out what's going on and what's needed at each of the schools.
Shaw said that planning with district administrators for improvement projects, and then implementing those plans strategically, is important. He said that's what he has done with other board members over the past three years.
Another question submitted by an audience member asked whether football should continue to be offered as a high school activity. All the candidates agreed that school activity programs, including football, are needed to keep students engaged.
Shaw, who first was elected to the board when he still was a high school senior, said that activities provide an incentive, and help connect kids to their school.
"If we start having to hack out programs, I'll probably cry. Because I know how much it means to all of the students, whether it be drama, debate, forensics, football, basketball, soccer, volleyball, everything in-between," he said. "I want to make sure those kids to have the opportunity to do what they're passionate about. If it's going to keep them in school, if it's going to help them succeed, if it's going to keep them motivated, then absolutely I'm going to continue supporting it for as long as I absolutely can."
Another question focused on diversity in the schools. Shaw and Hodne said that the local school district does a great job providing opportunities to reach a diverse population of students.
Johnson, a Native American, said there are great options in the district but he's concerned about the drop-out rate among Alaska Natives. He added that the district could do more to reach other minority student populations.
"Our population in Ketchikan now is over 10 percent Filipino. I'd like to see some Filipino culture added to the curriculum," he said. "I'd like to see some Filipino language, some Filipino art. I'd like to see something offered in our high school that represents a group of people better in our community."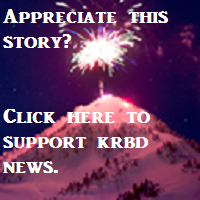 We have earlier reports about all the Ketchikan School Board, Borough Assembly and City Council candidates posted on our website, KRBD.org. The local election is this coming Tuesday, Oct. 4.