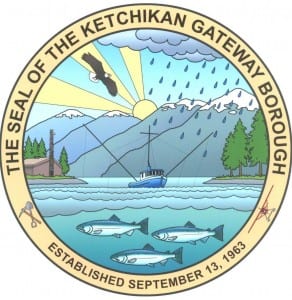 The process to create a home-rule charter for the Ketchikan Gateway Borough would be more expensive than just the $16,000 special election.
According to information from Borough Manager Dan Bockhorst, up to $34,000 more would be needed — $4,000 for a voter information pamphlet and up to $30,000 for administrative costs related to the commission's work.
All those costs depend on whether at least seven people sign up to run for the charter commission.
On Sept. 19th, the Assembly voted to start the charter process by inviting members of the community to file for a seven-member charter commission. The filing period for that is Oct. 7th through Nov. 4th.
In his report to the Ketchikan Gateway Borough Assembly, submitted for Monday's regular meeting, Bockhorst writes that the borough generally sends out voter information pamphlets, and did so before the last charter commission election in 2011. That commission focused on a consolidation charter that eventually failed. This commission would draft a home-rule charter that has nothing to do with consolidation.
If enough people sign up for the commission election — and unless the Assembly tells him differently — Bockhorst writes that he will move forward with a voter pamphlet providing background information about home-rule charters. The brochure would be mailed out Nov. 23rd, which is also when election ballots would be mailed. Election ballots would be due back by Dec. 13th.
Bockhorst also writes that if a charter commission is formed, there will be associated administrative costs that the Assembly might want to consider funding. He says an appropriation of up to $30,000 would be adequate.
Also Monday, the Assembly will vote on a list of prioritized community capital projects and policies for submission to the Alaska Legislature. Projects include development and improvements in Saxman, an ADA ramp at the airport's floatplane dock, and repairs to that dock.
Policies identified as priorities include continued community sharing of the state cruise passenger head tax; and encouraging state officials and the governor's office to work with Alaska Mental Health Trust to resolve the issue of logging on Deer Mountain.
Monday's meeting starts at 5:30 p.m. in Borough Assembly chambers. Public comment will be heard at the start of the meeting.