The Ketchikan City Council will decide Thursday whether to approve a nearly $2.5 million contract with BAM LLC to replace water and wastewater pipes on Tongass, Front and Stedman streets.
BAM was the low bidder for the project, which will coincide with street reconstruction that the state Department of Transportation has planned.
According to a memo from City Manager Karl Amylon, the city has close to a million left in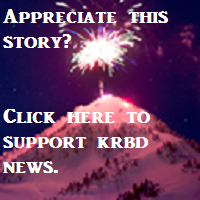 an account dedicated to the pipe replacement project; and another $1.3 million available through a low-interest revenue bond. Amylon writes that the city will fund the remainder of the contract through Wastewater Services Fund reserves.
Also Thursday, the Council will decide whether to purchase a trash compactor to replace Dumpsters at The Plaza mall. According to a memo from Solid Waste Supervisor Lenny Neeley, the Dumpsters at the mall must be emptied almost daily because of the volume of garbage, but most of that garbage is easily compactable.
Neeley writes that while a compactor would cost about $30,000, the city would save about $33,000 the first year because of reduced pickups at the mall. Under an agreement with the city, The Plaza would provide electricity for the compactor.
The Council also will vote Thursday on a resolution honoring KJ Harris, who has resigned his seat due to health concerns. He first was elected to the City Council 11 years ago.
The Council will have to appoint someone to fill Harris' seat until next fall. The city soon will start accepting applications for anyone interested in serving.
Thursday's meeting starts at 7 p.m. in City Council chambers. Public comment will be heard at the start of the meeting.