Ketchikan's Welcome Arch sustained significant damage Wednesday night after an allegedly drunk driver hit one of the supporting poles with his vehicle.
City Manager Karl Amylon gave some details to the Ketchikan City Council during Thursday's regular meeting. He said a Ketchikan Public Utilities truck was used to hold the sign up temporarily.
"We think that the actual sign itself it OK, but the superstructure that holds it in place took a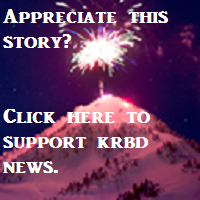 serious hit," he said. "So, we're going to be assessing the best way to bring it down and then to effect repairs. It's not covered on our insurance, so we're going to be pursuing action against the insurance company of the driver."
The driver, a 24-year-old Ketchikan man, was charged with driving under the influence and refusal to submit to a chemical test. He was released on his own recognizance.
Amylon also told the Council that City Port and Harbors Director Steve Corporon has been named "Harbormaster of the Year" by the Alaska Association of Harbormasters and Port Administrators.
Amylon read a little from the nomination form, which was submitted by the City of Ketchikan.
"Nominated by the City of Ketchikan for exemplary service as a highly valued upper-level management leader, and being tireless in pursuit of infrastructure improvement, Steve has been instrumental in securing funding for many port and harbor projects," he said.
Amylon congratulated Corporon on the award and says it was well-earned.