The federal government is getting close to finalizing a plan that could shape the future of timber in the Tongass National Forest. Various stakeholders have given input through the years. But if the objection letters are any indication, several agencies and groups are still not content — for different reasons.
Buck Lindekugel has been spending a lot of his time with maps. They're color coded to show which areas of the Tongass are suitable for timber harvests. And which areas are prioritized for conservation.
"But most of my time has been looking at these heavy books," he said – U.S. Forest Service books that outline how much timber is harvested from the Tongass.
The agency is expected to finalize a plan for the national forest this winter. Lindekugel is the grassroots attorney for the Southeast Alaska Conservation Council or SEACC. And although the planning phase is almost over, the organization still has issues with what's left of the table. Namely: so many old growth trees.
Lindekugel says it's not exactly clear where those trees can be cut down, "and we think that lack of clarity is going to create confusion … Are they going to be logged or not logged? There's ambivalence here in the maps."
SEACC isn't the only organization that thinks the plan needs more work. The Forest Service received more than two dozen objection letters. Most of the criticism is from timber industry groups that say the plan transitions away from logging more valuable old growth trees too soon.
And to address those concerns, the Forest Service is trying something new. It's inviting its biggest critics to come together for one last series of hearings. One of those critics is the state of Alaska.
"Some would describe this as a battle almost amongst certain groups," said Chris Maisch, a state forester.
Alaska's Department of Natural Resources is another agency that doesn't agree with how the Tongass plan has come together. He said the 16-year transition period doesn't give the industry enough time to adapt.
Milling young growth trees requires different equipment, "and no one is going to make that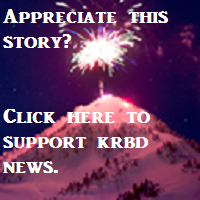 kind of investment if they're not certain they have a log supply they can depend on. And unfortunately right now that's not the case."
Recently, a controversial timber sale on Kuiu Island didn't receive a single bid. All of the wood was approved for export, meaning the logs likely wouldn't go to Southeast mills.
Buck Lindekugel from SEACC said that makes the point that the timber industry has already transitioned. Twenty years ago, it employed about 5,000 people.
"It used to be a main driver," he said. "There's no question that for decades it was. But that industry couldn't compete in today's market."
Lindekugel thinks that's due in part to Alaska's remoteness. Tourism, not timber, is the region's main economic driver.
But Chris Maisch, the state forester, said he still sees the potential, even with fewer than 400 state jobs left in the industry.
"It is worth saving because I think everyone in the state is keenly aware of the financial state the state finds itself and we need to do everything we can to diversify the state's economy," he said.
The Forest Service is holding its Tongass objection meeting this week in Ketchikan and next in Juneau. Both Maisch and SEACC say they're not sure what — if anything — will change.
The multi-day meeting to review objections starts at 10 a.m. Wednesday at Cape Fox Lodge in Ketchikan, and continues here through Friday. The meeting then will recess for the weekend and resume on Monday in Juneau for another three days.