A 16-year-old driver and her 20-year-old passenger suffered minor injuries following a single-vehicle accident early Monday morning near Mile 12.6 North Tongass Highway.
According to the Alaska State Troopers online dispatch, the accident was called in at about 3:30 a.m. Monday. The caller reported an unoccupied and overturned vehicle in the ditch.
Following an investigation, Troopers were able to find and talk to the driver at about 10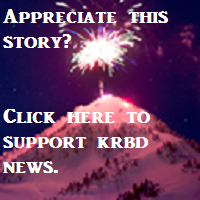 a.m. Monday. Troopers report that the driver and her passenger were northbound in the vehicle at about 3 a.m. when the driver swerved to avoid hitting a deer. The vehicle left the road, crossed a driveway and went partway up an embankment before rolling over and coming to rest on its roof.
The occupants left the vehicle and were picked up by a passerby, according to Troopers.
Both occupants say they were wearing seatbelts. They both refused medical treatment for their injuries.
The driver was cited for negligent driving and violating her provisional driver's license.  An additional charge of failure to give immediate notice of accident will be forwarded to the District Attorney's Office for review.