The Ketchikan School Board heard Wednesday from some coaches and teachers who say there is no systemic, intentional discrimination against girls' teams at Ketchikan High School.
During its Sept. 28 meeting, the Board heard from volleyball coaches, parents and players complaining about unfair treatment. They submitted a petition calling for a review of the district's Title IX compliance.
Teacher and girls basketball coach Kelly Smith told the board on Wednesday that the complaints and subsequent investigation made him angry, sad and frustrated.
"The petition insinuated that, as a school – not just an activities department – as a school,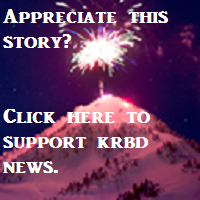 kids weren't being treated equally," he said. "That's a slap in the face of a lot of professionals – professionals that buy pizzas and coffee and raffle tickets and T-shirts and anything they can to help those kids."
Smith says the Students First group that organized the petition doesn't represent the majority of students in activities. He says they could have accomplished more with a more positive approach.
Kayhi teacher Rebecca Bowlen also spoke to the board, and also said a more constructive approach would have worked better.
"We know there will always be issues and we know that there will always be problems that need improvement. However, to do so in a way that intends to humiliate and punish under the auspices of justice does nothing but damage ourselves and each other," she said.
Bowlen said she fully supports the high school administration and activities director, and she believes they do their best for every team and activity.
The Students First group listed specific complaints about the Kayhi activities director's job performance, and one speaker at the Sept. 28 meeting suggested the school might need a new person in that position.
Carl Webb, a Students First member, responded on Wednesday. He says the group formed because they felt the volleyball team had been "attacked" when a School Board member took an informal poll regarding the team's shorts. That poll led to the purchase of new shorts for the volleyball team, without consulting the team's coach. Webb says that money could have gone to travel, or something else the team really needs.
The poll also led to complaints that the board member had objectified team members, and placed too much focus on their bodies rather than their sport.
Webb says he understands that some people saw the petition and complaints as an attack, "but that wasn't our intention and we would like to rectify that. Hopefully we can find a solution and move forward, because our kids and our students are what we care about. And I do think we have a great group of people in our administration and our teachers."
Since the petition and complaints were submitted, the district's Title IX compliance officer has been investigating the complaints and interviewing coaches and teachers. The district will have a report when that investigation is complete.
Also Wednesday, two School Board members took the oath of office. Incumbent Trevor Shaw was re-elected to a second term on Oct. 4, and Kim Hodne was newly elected.
Following the oath, the board selected new officers. Shaw is the new board president following a coin toss to break a tie between him and Board Member Glen Brown.
Brown then was elected vice president. Board Member Alma Parker was elected as the new clerk/treasurer.