Sen. Bert Stedman says "basic math" shows the state will have to come up with ways to increase revenue while also continuing to cut spending. But, he says, those cuts need to be careful and strategic.
Stedman spoke Wednesday to a crowd gathered for an annual lunch co-hosted by the Ketchikan Chamber of Commerce and Rotary groups. The lunch honors businesses and entities for community service, innovation and entrepreneurial skills.
Stedman was the guest speaker before awards were handed out, and he focused his comments on the state economy, which continues to face a multi-billion-dollar deficit brought on by low oil-tax revenue. Lawmakers have made large cuts over the past two years, but have not yet approved any significant new revenue sources.
The Legislature instead dipped into the state's budget reserves, and that fund is quickly shrinking as a result.
Stedman says the state can't completely deplete its savings; it needs something in the bank for emergencies.
"You've gotta have liquidity to operate," he said. "We have earthquakes, we have floods, we have a pipeline that could shut down. Things happen — forest fires every year."
When the Legislature took no action on revenue, Gov. Bill Walker made an executive decision to cut individual Permanent Fund Dividends in half. Instead of about $2,000, eligible Alaska residents received $1,000 each this year, with the other half going toward state expenses.
Stedman says that even if the governor had vetoed the entire PFD distribution, that revenue wouldn't have been enough to fill this year's budget gap.
"The revenue is the revenue; the expenses are the expenses; and the gap is the gap."
But, Stedman says, a fiscal downturn is not necessarily the time to cut all expenses. He says what the economy needs is investment by the state in infrastructure.
Stedman says Ketchikan is well positioned to get some infrastructure funds: about $95 million that's left from what had been earmarked many years ago for the bridge to Gravina Island. That bridge was vetoed by then-Gov. Sarah Palin, and much of the money for that project was diverted elsewhere in the state. But, Stedman says, the federal government has required that what's left be spent in Ketchikan.
Stedman, who is running for re-election, took the opportunity to tout some local projects he has helped move forward. He spoke specifically about the Vallenar Bay and Shelter Cove road construction projects.
"Vallenar Bay will probably be into next summer and Shelter Cove a little longer than that," he said. "They'll open up miles of road and countless acres of economic opportunity for development, for dealing with timber or cabins or recreation or what have you."
The Vallenar Bay road project on Gravina Island will add about 8.5 miles of single-lane road to provide access to state land for logging.
The Shelter Cove Road project will result in about 20 miles of single-lane gravel road connecting Ketchikan's existing road system with Carroll Inlet.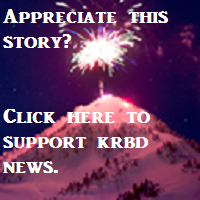 Stedman has been challenged this election by Michael Sheldon of Petersburg, who launched a write-in campaign earlier this month.
During his presentation Wednesday, Stedman touched on the benefits of having a local state House representative who is in the Majority Caucus.
Incumbent Rep. Dan Ortiz is running for re-election as an independent. He caucused with the minority Democrats the past two years. Republican candidate Bob Sivertsen is challenging Ortiz, and Stedman has been campaigning for Sivertsen.
Also running for House District 36 is Kenneth Shaw of the Constitution Party.
The general election is Nov. 8.